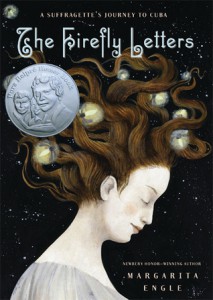 News Gazette – Champaign Urbana (section: Living: Books) Sunday, May 22, 2011
Attention fourth through ninth graders (and everyone else), have you ever wondered about Cuba, that mysterious island ninety miles south of the United States, where we, as U.S. citizens, cannot visit? Here are two great books–both by Cuban-American writers, both Latino Pura Belpre honor books, and both historical fiction, but from vastly different eras.
"The Firefly Letters: A Suffragette's Journey to Cuba" by poet Margarita Engle (Henry Holt 2010) is the story of three women living in the tropical paradise that Cuba seems to be in 1851–if it weren't for the hideous reality of slavery.
Fredericka Bremer is the Swedish suffragette who left behind her wealth and noble title in order to roam the world experiencing cultures different from her own and to support women's rights. Elena is the twelve year old daughter of European-descent wealthy plantation owners who is trapped inside her home and the system that will soon have her married off to a rich man of her class. Cecilia is the fifteen year old African born slave who translates, English-to-Spanish, for Fredericka, and who is pregnant by the husband her owner (Elena's father) has selected for her.
In this lyrical book, each woman, in her own voice, describes her transformation as a result of the other two. And particularly due to Elena's sacrifice, they together have a plan and hopes that will improve their lives and those of the next generation.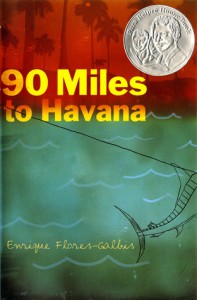 "90 Miles to Havana" by Enrique Garcia-Gilbis (Roaring Brook 2010) is the story of nine year old Julian and his two older brothers who were sent from Cuba by their parents in 1961 during the revolution in which Fidel Castro came to power. In Florida as part of Operation Pedro Pan, they live in an orphan camp, so crowded that the authorities have given over power to a boy their own age–a particularly cruel bully. If your passion is drawing, he'll crush your drawing pastels, he'll make you sleep on the bathroom floor, he'll have your brothers sent away. Unless you can find a way out.
Both these books are beautifully written page-turners.
Read an interview with Cuban-American author/storyteller Antonio Sacre and to join the discussion by responding.
Here's a little run-down on the history surrounding 90 Miles to Havana and a mini-history of Cuba in the 1960's and beyond: Fidel Castro overthrew dictator Fulgencio Batista in 1959 to install a new dictatorship. Cubans left their country for various reasons. Many who owned homes were stripped of them and their possessions. They feared for their safety or for their lives.
Because Catholicism was the main religion, the Catholic Church was subdued. Education became a communist (Marxist-Leninist) indoctrination. The Castro regime employed informants to detail their neighbors' spending habits, to find out who their friends were and to report "suspicious" behavior. All land and businesses were taken away from foreigners and Cuban individuals and corporations to become government-owned. So freedoms were stripped.
I asked my friend and colleague Antonio about his experience as a Cuban-American. But first a little Antonio-background.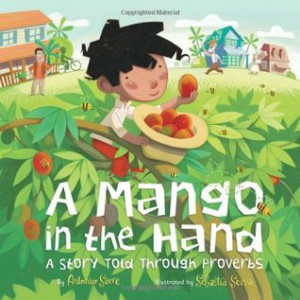 Antonio is the kind of guy, who you mention and people (well, actually women, in particular) go, "Ohhhhh. Antonio." I mean, just the sound of his name—Antonio Sacre. Latino passion. Right? Okay, well now that I've possibly really embarrassed him (in a good way), we'll talk to him.
P: Antonio, why and when did your father leave Cuba? Where did he go? (and what did he do?)
A: My father left Cuba in 1961, two years after the Cuban revolution.  For some Cubans, and especially my dad, it is very painful to talk about why and how they left Cuba, partly because of the betrayal they felt after the Cuban revolution, and partly for the sadness they feel at having everything and every place they loved stripped away from them.  It's safe to say that Cuba was in pretty bad shape in the 1950s, and the Batista government abused the Cuban people and prohibited their freedoms, so when Fidel Castro promised to change the island, many people were filled with hope. However, things soon took a turn for the worse.
My father was in his early 20s, studying medicine at the University of Havana, and on his way to becoming a doctor.  During his residency, some officials from the Cuban revolution told the doctors and residents at the hospital to teach the revolutionary values to their patients. My dad told them he didn't really care about the politics, he just wanted to treat his patients. His best friend Glauco felt the same way.  One day, when my dad got to the hospital, Glauco wasn't there, and nobody knew where he was. My dad found out three days later that he was imprisoned for speaking out against Castro, and my dad feared that he would be next.  He sought refuge in the American Embassy in Havana, and he waited there for 8 months to get papers in order to leave the country as a political refugee.
He was sent to Mexico, and eventually to Miami, where he joined other members of his family in the exiled Cuban community in a neighborhood called Little Havana. He lived there for some time, hoping that the Cuban revolution and Castro's communist regime would pass, but it never did.  He then set about the hard task of learning English, passing the medical boards (a big exam you need the pass to be a doctor in the United States of America) and became a doctor in Boston. My dad met my mom, and American woman of Irish descent, and I was born in Boston.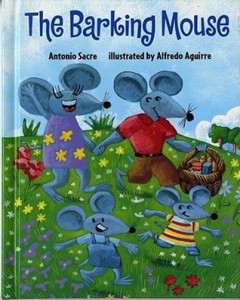 His friend Glauco remained unjustly imprisoned without a trial and kept in a Cuban jail for 10 years, and was tormented and hounded by the government after his release. He eventually made his way to New York City, and never was able to complete his studies and become a doctor.  Glauco talks with my father every day on the phone, and they see each other a few times  a year.
P: So life was disrupted in really extreme ways for many. But your father was able to make his way in the US, where you were born. You're all-American but you are a part of a strong Cuban-American community, aren't you?
A: I consider myself a Cuban-American, or as my dad calls me, an American with Cuban parts. One of my storytelling friends says that since I am American with a Cuban dad and an Irish-American mom, I am a 'lerprecano', a play on the words 'leprechaun', the mythical Irish gnome, and 'chicano', a US citizen of Mexican descent.
As a child, I spoke Spanish with my father and identified very strongly with his culture. I'm proud of my mom's Irish culture as well, but her great-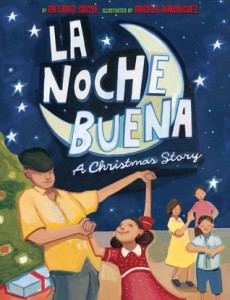 grandparents came from Ireland, and many of those stories and traditions have been forgotten.
However, my dad's mother, my grandmother Mimi, and many of my dad's relatives lived in Little Havana in Miami.  I spent nearly every summer vacation there, and many of my school holidays as well.  I was just there recently. It also became the setting for many of my stories.  Both LA NOCHE BUENA and A MANGO IN THE HAND are set in that neighborhood, and both were directly inspired by the memories I have of living in that neighbor with the exiled Cubans and their American-born children.
P: It soon became illegal for a Cuban to leave Cuba and has remained so, so people left in makeshift boats and rafts. You've told me about the balseros. Could you say something about that?      http://balseros.miami.edu/PartIIntro.htm
A: On one trip to Miami, in 1994, I was able to talk with many of the Cubans who floated over on boats and rafts. In Spanish, the word for raft is "balsa" and these people were called "Balseros."  Many of them were dissatisfied with the Cuban revolution, and tried to leave. However, they were not allowed to leave Cuba legally.  So, they left illegally, often at night, often on rafts that they hastily put together.  Many of them died on the journey, but they felt they had no other choice.  It's an amazing story, one that is still to be told in many places.  I admire the courage it takes risk your life to journey to a foreign land, searching for a better life for your family.  Many immigrants still risk their lives to come to the United States, and many sadly die on the journey.  One thing I say to the students I meet is that immigrants don't risk their lives and sometimes die to get to this country because they want to. They do it because they have to. This influx of immigrants, from literally every part of the world, has added so much to our country.  From my dad, who is still a practicing doctor in Delaware, to the incredible artists, writers, and musicians, to the scientists and teachers (including Albert Einstein in the 1940s), the list of immigrants who continue to contribute to this country is too long, and I'm concerned about how our country handles immigration now.
P: Which is all to say that immigrants in the US is what we're all about–the USA is a land of immigrants. Thanks, Antonio for talking to us. Antonio's newest book is A Mango in Hand which is a story of dicho's or Spanish language sayings. His first book was The Barking Mouse. Antonio's website is: http://www.antoniosacre.com/
Patricia Hruby Powell