The Book Launch Event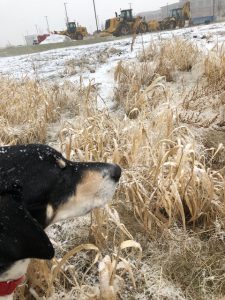 In the same way that we bring our experience to writing, we bring our experience to launching a book. I hope to give you some ideas that might help you launch your baby. The book, of course, helps dictate the party theme. Holiday books are great party inspirers. I know what I'd do if I had a tea party depicted in a book. Dog or cat washing? I'd throw a wet and messy bash. If I happened to have a book about a construction site, I'd throw a site-specific event. We have a massive square mile construction site a couple miles west of town. My hound loves it. Boy children would go nuts. Some girls, too.
TALENT AND COMMUNITY
My book Struttin' With Some Barbecue: Lil Hardin Armstrong Becomes the First Lady of Jazz (Charlesbridge) will have released December 11, 2018, and is an early jazz story about Lil Hardin Armstrong, Louis Armstrong's wife and a jazz pianist and composer in her own right. WOW za DOO! I'm throwing a jazz party the very next day—which, praise the heavens, falls before Christmas and Kwanzaa.
For planning your party, consider your talents.
Talent. I know how to do things on a shoestring. Having run a dance company, One Plus One, for many years, I can attest to the fact that Necessity is the Mother of Invention. Necessity has given me an ability for shoestring operation. Shoestring, folks. I've got shoestrings. AND there will be dancing!
Next consider your community—both your friends and your town. You know, like character and setting. So, where will your event take place?
WHERE AND WHEN
Is there an attractive bar/restaurant near you that you frequent? Try them out. Go regularly and sit at the bar. Make friends with the management. Perhaps this is easier after you've consumed a beer or a pineapple margarita. Do they have music events at least occasionally? That could help you choose the venue. I guess I'm suggesting you start frequenting nearby bar/restaurants. That can be fun. Start in plenty of time, maybe even before you write the book. Unless you're a really good drinker who can chug down pint after pint in venue after venue.
You might be thinking, Wait, this is a kid's book. Why launch at a bar? Well, it's usually adults who buy the books—even young adult book. Having your book launch before a gift-giving holiday is a plus, of course. But that's the luck of the draw. Your publisher will be deciding when your book releases.
So, the bar part is important (but not essential), because you want your attendees to have the option of drinking. The more people drink, the more generous they become, the more books they buy. Trust me. I know this to be true. And you won't have to pay for their beverages. Or the food.
And the restaurant part is important. The establishment will love you because you'll bring in a load of people—perhaps new customers—who will buy food and drink so you shouldn't have to rent the place. It's a symbiotic relationship: win/win. This is what you must convince the management of your chosen venue, while drinking that pineapple margarita at the bar.
"My" restaurant/bar makes a menu item to honor my book. For Struttin' they'll make a barbecue sandwich. For Loving vs. Virginia they made Brunswick stew which is, apparently, a traditional Virginia down-home dish. At another wine bar, for Josephine I had soul food catered. Through experience I learned, this expense wasn't required. Find a restaurant/bar that serves food.
MUSIC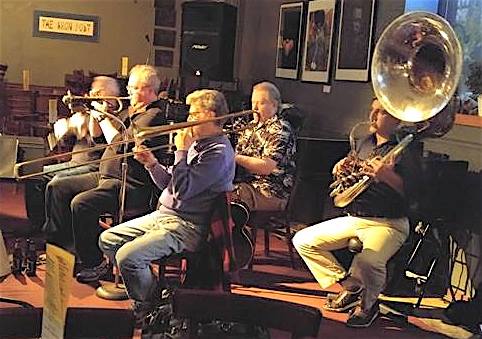 Music makes it a party. I want music performed which pertains to my book. This is easy for Struttin'. That would be my husband's band, Traditional Jazz Orchestra. "Struttin' With Some Barbecue" is the name of a tune that Lil Hardin Armstrong wrote with Louis Armstrong on their back stoop, and is the name of my book. Yep, I've got an advantage, having a jazz musician for a husband, but use your perks. (Maybe you married a massage therapist. That's a good perk). But I married a musician. So for my previous book, Loving vs. Virginia, I hired a string band led by Robin Kearton, because Mildred Jeter Loving's father and step brothers played in a "hillbilly" string band. Actually, I didn't hire the band, I traded my husband talking to them about improvisation—their request. That Morgan Powell, jazz trombonist, is quite a perk.
If you're not married to a musician, you'll need to make friends with musicians. That's on you. And I don't suggest you ask the band to play for free. It's important to pay the band members. That is my only real expense—$50 per player, plus I strutted around with a tip jar for another $150 to add to their pay.
I guess you could substitute canned music and make an appropriate play list to be played during the event. But it's not the same as live music, which actually helps draw a crowd to your event.
BOOK SALES
Ask your local bookstore to sell books so you don't have to do the sales. I work with Jane Addams Bookstore, which is, primarily a second hand bookstore in downtown Champaign. Because we hope to sell 100 books at that party, they make out. They'll sell your book at its full amount and you'll make your complete royalty.
Yes, some people will come with books that they've purchased from Amazon and that's fine. But, if you book your launch party the day after the release date, people probably can't get your book through the mail in time. Just a thought. And how mine happened to work out. And you can explain to your friends, your students, interested people, that they are supporting the author/illustrator by purchasing your book at its full amount. They don't want you to starve or anything, so they'll usually (oftentimes) understand and be willing and excited to pay the publisher's list price for your book.
PUBLICITY
Chronicle Books gives its authors and illustrators business cards, displaying the image of the book cover. On the backside are the creator's social media contacts. That's all you need. Back in the day, Salina Bookshelf made postcards of my books. I made postcards for my first book, Blossom Tales. I'd hand out my Vista Print-made postcard, with a notice of a book event and watch people fold my $.25 card in half and put it in their pocket. Agh. No one has to fold a business card. It fits in pockets, wallets, palms, you-name-it. So I begged Charlesbridge to make me a business card of Struttin' With Some Barbecue. If they hadn't, I would have gone to Vista Print to make my own. But I'd have asked my publisher/publicist to design the card (to my specifications), because I don't even own PhotoShop. But, yep, you could design it on Vista Print too.
So let's say you have 1000 beautiful business cards with the image of your book on the front. Leave enough room on the back—at least 1 ½" wide by 1" high—where you can affix your specific announcement.
Then go to Staples or some other Office Supply denizen and purchase full-page labels (that is, 8 ½ x 11). Format a page on your computer, using Times New Roman, 8 point font, which is compact and legible. Format 6 columns and margins set at .2. Succinctly designate:
What: Book Launch Party
When:
Where:
Music by:
Book Sales by:
Print, slice lengthwise or whatever direction allows the peeling seam to be accessible. Peel, cut one announcement, affix to back of business card, and repeat. I only do a few at a time so I don't go nutty. Or nuttier.
I hand them out months ahead of time as I see people who I think might be interested (aka everyone I know or meet who lives locally). This way you get to a whole lot of participants and build excitement for your book birth. I tell anyone who's interested some pithy detail about the book. For instance:
Lil was Louis were each other's second marriage.
We named our Tree Walker Hound Lil after Lil Hardin Armstrong.
Lil's papers, including the first 5 chapters of her autobiography, were stolen from her house at the time of her funeral, which is probably in part why so little is written about her.
Lil's extended family is owed loads in royalties, but they can't be found; their names would probably be Hardin or Martin and might live in Tennessee.
Louis remarried a couple times but Lil never remarried.
A month after Louis Armstrong died, Lil collapsed while playing the piano at a commemorative concert in his honor in Chicago; she died shortly after.
I give a stack of the cards to Jane Addams Bookstore, a stack at my body-worker's waiting room, and wherever people might pick one up. I still won't use all 1000 cards, so I'll leave some without the affixed Book Launch invitation and will hand them out whenever I meet people. My husband hands them out, too.
I'll make a few 8×10 images of the book for a poster announcing the party. I'll post one each at Jane Addams Bookstore, my public library and the Esquire Lounge where the party will take place.
SOCIAL MEDIA INVITATIONS
About a month before the party, I create a FaceBook Event page and invite all local FaceBook Friends. This has become so easy on FB. Check out "Create" on your home page. It's so straightforward it nearly does itself.
I also send an e-mail message with the book image to local friends, first as a Save the Date, then a week before. After all, not all your friends are on FB. But if you overlap, I think it's okay. To receive occasional announcements is a way to help create buzz.
I also send a press release to my local newspaper, the paper for which I review YA books. They'll definitely list the event. Maybe they'll even write an article. We'll see.
What will I do at the event? Tell some anecdotes about Lil, about the research, and read a bit. Then talk to people as I sign books. But mostly the band, the community of people, and the venue provide the entertainment.
Outcome: Some people bought multiple books. Some people didn't buy books, but just came for the party, which is fine. More than 150 people attended, Jane Addams sold about 90 books. I signed the rest of the books and the bookstore expects to sell those. We created buzz for the book. And the party was extremely fun.
First published in The Prairie Wind, the newsletter of the Society of Children's Book Writers and Illustrators, Illinois. https://illinois.scbwi.org/files/2019/01/PW-Winter-2019-Interactive.pdf