Cadence Sinclair Eastman is 18 at the beginning of "We Were Liars" (Delacorte 2014) by E.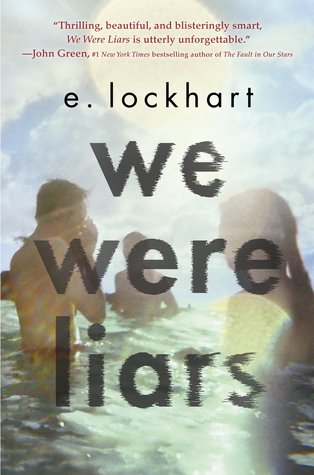 Lockhart, but her actual story begins "summer fifteen" when she is 15. The blueblood Sinclair family own Beechwood Island and all converge there every summer. Her grandparents reign in one mansion and their three middle-aged daughters squabble over the other three island mansions.
The story centers on the next generation—Cadence and her cousins. Cadence is the eldest by a couple weeks and it is she who will inherit Beechwood. She speaks sparely, as in, "…my father ran off with some woman he loved more than us." When he actually leaves she says, "Then he pulled out a handgun and shot me in the chest." What? You sputter. Then a few lines later, "Mummy snapped. She said to get hold of myself." And you realize that Cadence speaks in dramatic adolescent metaphor. Perfect.
About the two next oldest cousins, only weeks younger than she, "Johnny, he is bounce, effort and snark." "Mirren, she is sugar, curiosity, and rain." Then the nephew of her Aunt Carrie's Indian boyfriend comes. "Gat seemed spring-loaded…He was contemplation and enthusiasm. Ambition and strong coffee." An Indian boy (and his uncle) enter this white white family.
The accident happened summer fifteen but we don't know what that accident was. With her headaches, depression, visits to endless doctors and selective amnesia, Cadence cannot tell us what happened that summer. Against her will, she is taken to Europe by her father when she is 16.
We know she fell in love with Gat during summer fifteen. But he doesn't even answer her emails. Neither do Johnny nor Mirren, but internet service on their remote island is not great. They'd have to take one of the boats across the waters into town. Not only is she depressed but vomiting and hugging the cold floor tiles throughout her European trip. The doctors can find no medical reasons. They say, give her time. Let her remember on her own. Let her remember the accident.
She is sent off to her father for the next summer and the next, but she convinces them to let her spend 4 weeks on Beechwood summer eighteen. She wants to remember the accident. Her cousins—all of them, including "the littles"—are instructed to go easy on Cadence. And throughout that summer she begins to uncover the accident. She begs her cousins to remind her, but mostly she has to figure it out herself.
Eventually we learn that during summer fifteen, her grandmother Tippy died. Her grandfather is slipping in and out of dementia. Cadence rebels against her mother and aunts who vie for all the lovely things that were Tippy's. The three mothers fight over the three mansions. Cadence gives away everything she owns—including her beloved books.
Through the course of summer eighteen, she remembers. And it knocked me over. If you are older than "young adult," that's okay. Read this.
Patricia Hruby Powell's new book Josephine: The Dazzling Life of Josephine Baker won a Boston Globe Horn Book 2014 Honor for Nonfiction and a Parent's Choice Gold Award for Poetry.