In Kansas, near the end of WWII, Jack's mother dies. His father, off at war, has Jack sent to a boys' military school in Maine. There, Jack meets "the strangest of boys" whose name is Early Auden. So begins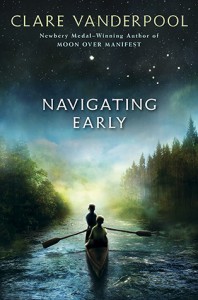 "Navigating Early" (Delacorte 2013) by Clare Vanderpool (Newbery Winner 2011 – "Moon Over Manifest").
Early lives in the school basement rather than the dormitory. He rarely attends class. He's alone. He's also a mathematical savant. (Today, we'd say he was on the autism spectrum, but such labels were rarely used in 1943). Early is an outsider, but so is Jack, and they become friends.
Early sees colors, textures, and best of all, a story in the infinite number of pi, which begins 3.1415926…The boys' math professor believes a theory that the number pi is finite, that it can be calculated to completion. Early doesn't think so. According to Early, the digit 3 is the mother, 1 is a boy named Pi, 4 is his father. Pi then begins his adventure. The numbers tell Early the story of Pi being swallowed by a whale, of being lost on an island, of being cast out at sea, and that's just the beginning.
During a school break Jack and Early set out on a quest together along the Appalachian Trail. For Early it is a matter of following Pi's story. First, they are searching for a legendary bear foretold in the numbers. Jack is telling their adventure story and he frequently invokes his mother's folksy wisdom, such as, "What's more important? The seeking or the finding?"
But it is Early who tells Pi's story—and he finds the story by calculating the next digits of pi. That is their guiding light.
Pi's story seems to be a metaphor for the boys' adventure. And at first Jack doubts Early's guidance, but having nowhere else to go, he follows. When the boys meet characters who have been foretold in Pi's story, Jack begins to believe. Pi has been abducted by pirates on the open seas. Early has taken the beautiful sculling boat from the school's boathouse saying it belongs to him. On the river, some tough men lure the boys ashore and take their boat. Pirates.
The boys' adventures are harrowing and at times we're reminded of the war going on in Europe. The boys get trapped in a cave behind a waterfall. An old woman thinks Jack is her long lost son who died a generation ago. They have major mishaps and Jack recuperates with a mountain man. Early is not surprised by the twists of their quest, because they've been foretold in the numbers. The boys' quest goes from paralleling Pi's quest to becoming one and the same quest.
It's hard to believe that Early will find what he's looking for. He doesn't get exactly what he wants, but the reader will be surprised by what he does find. Jack finds comfort in his life and gratitude for his odd friend.
All the complex threads of the quests—both real and imaginary—are knitted together in a satisfying end. It isn't always a fast read, but those who are carried along in the magical realism will have a more than worthwhile adventure.
Patricia Hruby Powell is a nationally touring speaker, dancer, storyteller, occasional librarian, and children's book author. See more on-line at www.talesforallages.com/