Ibi Zoboi does not shy away from the ecstasy of first love or the horrific violence of Detroit's west side in "American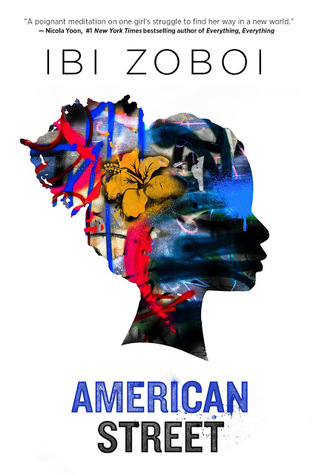 Street" (Balzer & Bray 2017).
Teenager Fabiola Toussaint is on her way to Detroit from Haiti to find a better life, when her mother is detained by U.S. immigration on their New York stop. Fabiola, on her mother's insistence, continues on to the home of her loud Detroit cousins known at school as the "Three Bees: Donna (slut); Pri (tough dyke); Chantal," the wise one. Will innocent Fab become the Fourth Bee? Smart Chantal says, "If these girls think you're scared and that you're not gonna fight back, they will mess with you."
Fabiola falls for the loveable Kasim. How you root for these two! But what might be best about this book is the turn of phrase. What great writing. What great insights, beautifully stated.
Here's one about dancing. "A song I know comes on and my body obeys the familiar rhythm." So right.
Here's a couple about the magical realism. (Afterall, the protagonist comes from Haiti where vudu prevails). Papa Legba is known as a crack addict. He lives outside the family's west Detroit house, which by the way, is situated at the corner of American Street and Joy Road. Fabiola, who sees Papa Legba as a conduit to God, describes him by saying, "something about the way he grins and that eye patch makes him look like he's been to the underworld and back." And: "His voice sounds as if it's coming from the depths of dark, broken places. I can feel it in my bones."
About her unformed thoughts, she says, "I open my mouth to say something, but my mind has not formed the words yet."
About her life as it progresses in Detroit: "Creole and Haiti stick to my insides like glue—it's like my bones and muscles. But America is my skin, my eyes, and my breath."
About the rough life in Detroit: "I try to walk a path that's perfectly in between. On one side are the book and everything I have to do to make myself legit, and on the other side are the streets and everything I have to do to stay alive out here."
Dray is just one of the villains—and he's rough and powerful.
About Haitian dictator Claude Duvalier: "This dictator was the heavy boot on our skinny necks."
Back in Haiti, there was an abusive boss of teenage girls: " . . . He would watch us while we worked. We let him look. Eyes are only dull blades, but hands are as sharp as broken glass."
You get the idea. Fabiola is in love, trying to stay alive in a violent setting. At the same time she is working to get her mother out of the prison system. Why was her mother incarcerated? Her links to voodoo.
This heart-breaker is a National Book Award Finalist for 2017 and it should be widely read. Please do.
Patricia Hruby Powell is author of the young adult documentary novel Loving vs. Virginia and Josephine: The Dazzling Life of Josephine Baker   talesforallages.com