"The Boys in the Boat" by Daniel James Brown
"Boys in the Boat: The True Story of Nine Americans and Their Epic Quest for Gold at the 1936 Berlin Olympics" (Viking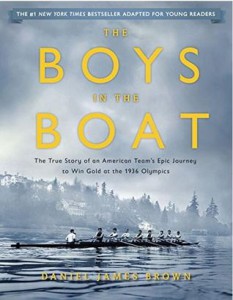 2015) is the young readers edition of Daniel James Brown's best-selling original for adults. The story follows Joe Rantz, one of the sons of Washington State lumberjacks and farmers who bested the elite eastern schools just before the outbreak of World War II, in the upper class and wildly popular sport of rowing.
Joe Rantz makes his way through the Great Depression, enduring hardships that we can barely imagine in our times. When three years old, Joe's happy life abruptly ends with the death of his mother. His bereft father disappears and Joe is sent, alone, cross country by train to an aunt in Pennsylvania. There, he falls deathly ill, lying in an attic bed for a year, at which time his grown brother recalls him to Washington. Joe's father remarries and Joe is returned to the fold. But when his father and his new young wife, Thula, begin to have children, Joe is banished again.
These heartbreaks toughen the boy, making him vow to never depend on anyone but himself. That's a problem in a sport where one must give up one's ego and work as a team. On the college freshman crew, Joe is an oddball, but through the seasons—including a summer working on the Hoover Dam, suspended from ropes, chiseling at a face of rock with two other boys on the team—Joe begins to accept friendship. And thank heavens for his childhood sweetheart Joyce Simdars.
This trend of revising adult bestsellers to younger readers' edition has varying results. This teen version is perhaps one quarter the length of the original, and each has its pros. The quick read might be just what you want. The most important detail that is left out is the simple science that explains why the sport is so painful to the rowers. Rowing a race is akin to playing two basketball games back to back, but in six minutes. There is no time for the lactic acid building up in the muscles to release, thus causing pains like knives driving into those muscles.
The suspense of the individual races is great, which is quite a feat considering the outcome is in the title. The poor U.S. team wearing ragged clothes arrives in a Germany that has been whitewashed by the Nazis. Hitler and Goebels have designed the Olympics to impress the world—while in the background they're shipping gypsies and Jews to death camps.
The great filmmaking propagandist, Leni Riefenstahl, the architect of Nazi Germany's greatness, filmed the Olympics to further the cause. You can see a clip of the Washington team winning the 1936 Olympic rowing, against immense odds. (Google it) The Americans and the Brits in the farthest lanes out in the windy high-current lake hadn't even signaled their readiness to begin the race.
Your heart pounds as these underdog American boys win against Hitler's Germany.
Patricia Hruby Powell's book Josephine: The Dazzling Life of Josephine Baker was awarded a Sibert Honor for Nonfiction, Boston Globe Horn Book Nonfiction Honor, and a Coretta Scott King Honor for illustration. talesforallages.com