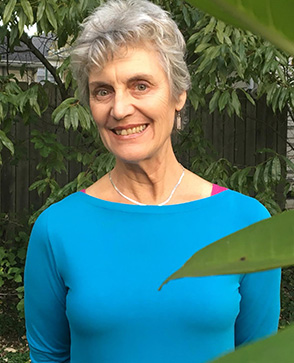 born & raised – in Arlington Heights, Illinois…so long ago that we played in barns and the construction sites of hundreds of new neighborhood houses being built. They piled up dirt from the new foundations and they waited so long that for years we had prairie-covered hills and tadpole-filled creeks and a bicycle route to the park over those hills. I write about that in my first novel, Maddy, which still isn't published. I've had several publishers tell me that they're certain I will "place" it (which means they're certain some publisher will eventually publish it.) I hope so.
current home – Champaign-Urbana, IL.
family – husband, Morgan Powell (he's a composer and jazz trombonist) and one tree walker hound, Lil.
family living elsewhere
one big brother (CA), and his daughter (CO) (who does this website)
one big sister, her son (snow board champ), and her daughter (soccer champ) (NV)
6 cousins who live all over the world
2 step-daughters and their families (IL)
more places I've lived
Paros, Greece – I traveled to this Greek island to dance, the summer I turned 20 and lived there for the summer. 
London, England – I lived in London for 2 and a half years to study at the London School of Contemporary Dance and started my professional dance career there.
New York City – I moved to New York and lived there for a year, but it seemed like seven. Alvin Ailey had given me a scholarship to the American Dance Center where I studied while producing my own concerts and dancing with the Rudy Perez Dance Theatre.
Winnipeg – I apprenticed with the Winnipeg Contemporary Dancers for a long hard winter of 20 below zero weather.
Philadelphia – while earning an MFA in Dance at Temple University, I lived in fabulous Philly 1985-87.
Urbana-Champaign, Illinois – I've lived in Urbana-Champaign, since 1975, except for two years in Philadelphia, and for fourteen years out in the country of east central Illinois. That's a lot, isn't it. This is where I based my dance company, One Plus One. From this great university town, we traveled throughout North and South America, the Caribbean and Europe.
education
London School of Contemporary Dance – diploma
University of Illinois – Urbana Champaign – BFA in Dance
Temple University in Philadelphia – MFA in Dance
University of Illinois – Urbana Champaign – MS in Library and Information Science
other careers, past and present
dancer/choreographer in London, Winnipeg, and New York City, and with my own dance company ONE PLUS ONE which traveled all over the Americas (North, Central, and South America), Europe, the Caribbean, and allowed me many adventures…some of which I can write about.
lithographer (printing from large stone slabs)
trapeze artist
ballet teacher
modern dance teacher
composition teacher
mime
dancer; I still dance in my stories, some of them. I also play percussion instruments. Josephine is about a dancer, so I dance the Charleston when I do Josephine presentations.
librarian (substitute librarian)
dance water therapy instructor

awards and fellowships – from the National Endowment for the Arts, Illinois Arts Council, Ragdale Foundation, Illinois State Library, Temple University, Creative Arts Institute, Boston Globe Horn Book Honor, Robert F. Sibert Honor, Bologna Ragazzi Honor.
regular days – I write for the first part of the day when I'm sharpest. Later I might walk around our in-town lake with Lil and think about what I'm going to write later. Some days I skate (in-line) at Meadowbrook, which is prairie with paved paths. Sometimes I go to the gym and work out; and I play and workout in water 3-4 days per week.
current project – Struttin' With Some Barbecue: Lil Hardin Armstrong Becomes the First Lady of Jazz (Charlesbridge December 2018) illustrated by Rachel Himes
Lift As You Climb: The Story of Ella Baker (Simon & Schuster 2019) illustrated by R. Gregory Christie.
I'm working on a Woman's Suffrage Project (Chronicle 2020) in three sections:
Susan B. Anthony and Elizabeth Cady Stanton in the 19th Century
Alice Paul and Lucy Burns in the 1910s
Fannie Lou Hamer, Victoria Gray Adams, and Annie Devine in the 1960s [with assistance from Lisa Brathwaite]
and a piece called Not Your Average Joe.
My agent, Anna Olswanger, is looking for a home for On the Trail of Nancy Drew.