Eighth grader, Claire, did not pass into the next level of dance classes—and her classmates did. She might lose her second chair alto sax position and first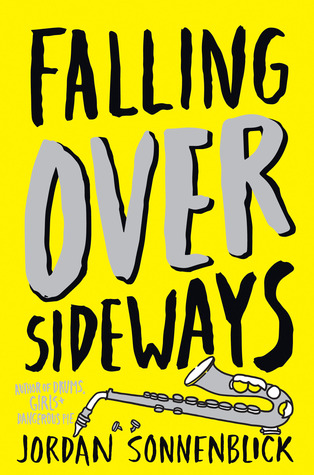 chair Riley does nothing but insult her. There's no way she can live up to her big brother Matthew's reputation in school. Everyone is doing fine—except Claire—in "Falling Over Sideways" (Scholastic 2016) by Jordan Sonnenbrink.
Claire is Claire-centric. She's hyper sarcastic—but funny. Jordan Sonnenbrink is always laugh-out-loud funny. When it seems that nothing could get worse—the unspeakable happens. While home alone with her lively author father, she witnesses him fall over sideways, unable to speak. Claire calls 9-1-1. She rides with her disabled father in the ambulance to the hospital. Her mother doesn't even answer her phone. Claire is scared. Will her father die?
When Dad, who was once so funny and fun, finally arrives home—well, he's just not her father anymore. Was it better if he'd just died rather than have a stroke? Claire wonders. When he finally does speak he calls her "Piggie," a childhood nickname. Claire is mortified. He manages to call her brother by his real name: Matthew.
Everyone at school—her friends, their parents, teachers, the counselor—says she's depressed, which makes her angry, because she insists that what she is, is mad. She's really mad at everyone including her father. And Riley never stops being mean and snarky to her
Matthew is spending a lot of time with their father, rather than going to soccer practice and studying, but Claire doesn't see the point. I mean, he's not himself. Claire's sweet mother is exhausted. Eventually Matthew shames Claire into helping to care for their father so he can get his homework done.
She hasn't practiced her sax in weeks, but her dad isn't talking, so she figures at least maybe she can get some practicing in. Dad who had seemed so dull becomes enlivened at the sound of the horn. Claire discovers that a left hemisphere stroke victim can be helped by listening to music. She keeps playing for him.
Time passes and her father doesn't seem to be improving. Claire won't invite her
friends over because she's embarrassed by her once life-of-the-party father who is now drooling and doesn't even seem to want to improve his speech and motor abilities.
Her mother tells her that she is her father's favorite—that "Piggie" is such an affectionate name. Claire starts spending more time with her father. She keeps playing her sax. She cajoles him into working harder on regaining speech, coordination, mobility. The reader learns a lot about stroke and stroke rehabilitation.
I borrowed this book from my library and listened to it via Overdrive, read by Miriam Volle. What a great reader. How can an adult sound this much like a sweet young girl. I'm sure the recording made me like the book even more than if I'd read it off the page.
Patricia Hruby Powell is the author of the award-winning Josephine; Loving vs Virginia; and Struttin' With Some Barbecue among others.  She teaches community classes at Parkland College in Champaign, IL.         talesforallages.com