In 1911, on a farm near Lancaster, Pennsylvania, Joan Skragg's father forbids his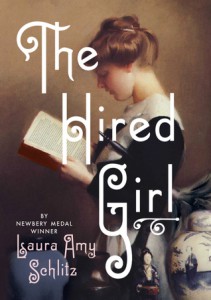 daughter from getting an education. He burns her books. He crushes her last hope when he shouts, Who's going to marry her? Motherless Joan tells us her father has "choked-down anger inside him. It's like stagnant water, heavy and murky and sickening." Her former teacher Miss Chandler cannot even visit her favorite and best student, Joan, because of Mr. Skragg's rude behavior. Joan is doomed to cook and clean for her father and four older brothers. Until…
Fourteen year old Joan, runs away to Baltimore and changes her name to Janet Lovelace. Because she's a "big ox of a girl" she claims to be eighteen. She gets off the train in the dark, gets lost, has nowhere to sleep. A young man comes to her rescue. Catholic Janet is hired by the young man's Jewish family in "The Hired Girl" (Candlewick 2015) by Newbery Medalist Laura Amy Schlitz.
Janet, a naïve and romantic lover of books, compares herself in various situations to Jane Eyre, or to Rebecca in Ivanhoe. In her analysis she falls short, never to live up to the heroine who might be ennobled, edified, or even impetuous. Janet says "Heroines in novels are proud, but for a hired girl, it isn't convenient."
Janet scrubs, cooks, and beats carpets for the Rosenbach family, who live a kosher life. The other servant is Jewish Malka, who raised Mr. Rosenbach, and is like a family member. When touchy Malka complains about Janet's crucifix, or for using the wrong sink, Mr. Rosenbach must instruct Janet. When he discovers her love of reading and her keen, if naïve, insights, they gently bond. Still, he insists she apologize to Malka.
Following Janet's thought process is one of the sweetest literary experiences I've had in some time. Mrs. Rosenbach, who has no appreciation of Janet's sense of romance and of doing good, is harder on Janet. Whereas Janet sometimes detests Mrs. Rosenbach, she's fair about her assessment and appreciates the steely woman for her sharp intellect.
The Rosenbach sons come and go from the house and it's difficult for Janet not to fall in love. They're intermittently charming to her. And kind. After living in a farm household filled with rough hewn men, these new kindnesses look like professions of love to Janet. Of course it's confusing. But when she sees her mistake, she does her utmost to help in the match-making with the young woman she sees as the real object of his desire. This causes worse problems. But Janet means well.
And the youngest Rosenbach, Mimi, is naughty, hates to read, and hates the strictures of her class. Janet will do her utmost to help Mimi. Oy vey!
Did I say it was a diary? It is bound to become a classic. It's too wonderful.
Patricia Hruby Powell's book Josephine: The Dazzling Life of Josephine Baker was awarded a Sibert Honor for Nonfiction, Boston Globe Horn Book Nonfiction Honor, and a Coretta Scott King Honor for illustration. talesforallages.com