Sy Montgomery, author of "How To Be a Good Creature: A Memoir in Thirteen Animals" (Houghton Mifflin Harcourt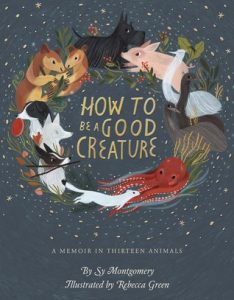 2018) shows that humans who love other species learn love, forgiveness, and grief, among other necessary human traits. The award-winning author writes for both children and adults and is a naturalist and adventurer. This is an adult book that young adults will love.
Starting with Molly, her childhood best friend, a Scottish terrier, Montgomery says, "I—standing there helplessly in the frilly dress and lacy socks in which my mother had dressed me—wanted to be just like [Molly]: Fierce. Feral. Unstoppable." Molly inspired the author's destiny.
Next Montgomery takes us to Australia where she studies three emus and is "caught by their grace and power and strangeness." She says, "To begin to understand the life of any animal demands not only curiosity, not only skill, and not only intellect . . . but also my heart."
Christopher Hogwood (like Wilbur in "Charlotte's Web") starts as a runt pig and grows into a 750 pound hog over the dozen years he lives with Montgomery and her husband in New Hampshire. "He taught us how to love . . . what life gives you. Even when life gives you slops."
In the jungles of French Guiana in South America, on a National Geographic expedition, she learns to love a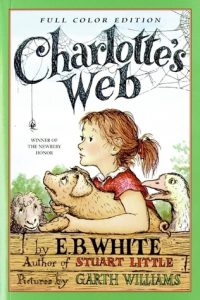 quarter pound spider, Clarabelle. "The huge spider thundered out of the hole . . . her head was the size of a small kiwi and her abdomen was as big as a clementine." The reader learns: "If a leg was injured, she could pull it off, eat it, and grow a new one." (She's as loveable as Charlotte). And "The world . . . [is] rich with the souls of tiny creatures who may love their lives as much as we love ours."
There's a pure white ermine, who steals one of their Ladies—that is—a hen. But it is "ablaze with life," and instead of anger, Sy feels awe.
Then there's the first of three border collies, Tess, who ages until: "Never before had anyone relied on me so completely . . . loved me more deeply. And never before had I experienced grace so profound." The love of a mother. And her grief at the loss of Tess and Chris the pig nearly brought her down.
But off she goes to the cloud forest of Papua New Guinea to study the elusive tree kangaroos, where she finds "the wildness that keeps us sane and whole."
Sally is so different than Tess, the next border collie, but one accommodates the inevitable difference in personalities. "This is the gift great souls leave us when they die. They encourage our hearts. They leave us a greater capacity for love."
Then there's Octavia, a short-lived octopus at the Aquarium who endures a false pregnancy, loving and protecting her unfertilized eggs. The author says "love never dies, and love always matters." "Love is the highest and best use of a life."
Her present border collie, Thurber, teaches us, "You never know, even when life looks hopeless, what might happen next. It could be that something wonderful is right around the corner."
You're going to love this book.
Patricia Hruby Powell is author of Struttin' With Some Barbecue; Loving vs. Virginia; and Josephine: The Dazzling Life of Josephine Baker talesforallages.com