Writing Tips
Writing to Evoke Emotion  
By Patricia Hruby Powell 
Readers read to have an experience—to go on a journey. Ideally, as writers, we take them out of their own lives and bring them into another. Most frequently, this is done when the reader engages so completely with the protagonist that the boundaries of the reader and the protagonist blur. Readers tend to feel what the protagonist feels and want what the protagonist wants. It works with some sympathetic secondary characters as well, but primarily it's your main character the reader will identify with.
So, how do we emotionally get the reader into the world of our story? Showing rather than telling can be a great first step, because the reader can dive into the scene along with the protagonist and be there with them while the character is experiencing their own emotion. (See the Show-Don't-Tell writing tip on my website).
We want to hook our readers—whether it's our beta readers, agent, editor, or the general public. We must start at the onset and continue throughout the story. Here are some examples from books that do this job powerfully.
A Young Adult Example
In Laura Ruby's young adult novel Thirteen Doorways, Wolves Behind Them All (Balzer & Bray 2019), the thirteenth word on page one is "orphanage."Most of us are wired to care about the underdog. Injustice disturbs us. In the face of injustice, we might feel hurt, anger, despair, empathy, or all of those emotions. We immediately care about the unjustly orphaned character, Frankie.
Not every story is about an orphan, of course, but with the examples I've provided here and below you might think about how your own stories might hook your readers emotionally.
Back to Frankie. Not only is she orphaned, she can't talk. Why? What happened? I care. I'm curious. I desire to acquire information. That desire is an emotional connection to the story.
The story continues, "And then the shot from her parents' bedroom—so sharp, so loud, so wrong." Then screaming. I'm riveted now. An orphan who is unable to speak after she hears a shot in her parent's bedroom? That means Frankie wasn't always an orphan. Most all of us value our parents. That moment when one becomes orphaned? Despair. A nightmare. And the result is that our character becomes mute? I identify. I'm stricken. I'm with Frankie. I feel emotional attachment to her. But what happened? Again, curiosity—I desire to know.
All of these emotions, I bring to the reading of this book. Some I consider more universal than others. Desire to know, desire for justice, despair. Some are more personal.
I read the word "gaslit" early in Ruby's book and think, ahh, this is historic. I love historical fiction. That's a personal preference of mine. The author describes cribs like "gravestones" and that cements the tone. Injustice poured down on orphans. And the way the author uses words! "Crawling, hot tears on her face." I admire great use of language and image. That's another emotion: admiration. I have confidence in this writer. She knows what she's doing and I'm going on a well-guided journey into another world—I'm connected by emotion.
Of course, some aspects—arguably all aspects—are subjective to some degree. The reader brings his or her own experience to the story they're reading. I love history, great use of words, and feeling I'm in good hands. Maybe most of us do. But consider this. What if the editor reading this as an unpublished manuscript was brought up in an orphanage, or her sister was adopted from an orphanage? It brings that editor that much closer to the story. This helps explain why a manuscript may resonate with one (editor) and not with others—for instance, the twenty who have rejected your manuscript to date. The next editor might have been brought up as an orphan and be the one who connects emotionally to your story.
And yes, in Thirteen Doorways, Ruby does a lot of showing rather than telling. This is why the reader can be inside the action, the story, the world, right along with the characters.
A Picture Book Example
Consider Laurel Snyder's picture book, Hungry Jim (Chronicle 2019). It begins:
"When Jim woke up on Tuesday,
his tail had fallen asleep.
This seemed odd.
Jim had never had a tail before."
I'm laughing. "Jim had never had a tail before." Chuck Groenink's nostalgic illustrations show Jim as a lion in a child's bed—the illustrations are a huge part of connecting book to reader. Picture books have the advantage of dual-showing—both illustration and text. The author is telling in the above passage. But as the story continues, she shows Jim's activity.
Humor is a great emotional connector. And the humor here is sly. Jim feels "beastly" and he wants to eat everything—including his mother. He's in a mood. And he just can't control it, until he does. And yes, the book is an homage to the great Maurice Sendak and Where the Wild Things Are (Harper Collins 1991). Humor brings delight—a strong emotion.
A Middle Grade Example
A Wolf Called Wander (Greenwillow 2019) by Rosanne Parry is a middle grade novel. I'm a sucker for well-done animal stories—especially wild animals.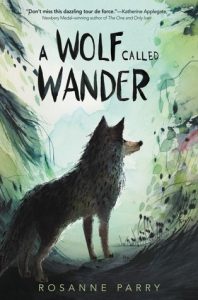 These were my favorite stories when I was young. Endangered wolves are the underdog. I'm there. I identify with wolves. This novel is told in first person by a young wolf, so yeah, I guess it's anthropomorphized, but so gently. Our wolf shows his world from his experience.
The author has her wolf character use verbs that a wolf might understand by hyphenating English language verbs—because English can't cover the wolf culture. You've heard that in the Inuit language there are two hundred different words for snow. Most English speakers don't need two hundred words for snow because, thank heavens, we don't have a regular experience with so many types of snow—they're not part of our culture. Language reflects culture. Maybe we should consider Parry's book a translation from wolf.
Our wolf says, "I crouch-growl-sniff" when he encounters an unknown scent. When he smells a human, he "crouch-freezes."  When he encounters a female wolf, his excitement causes him to "yip-spin like a pup." Our young wolf, who will eventually identify himself as "Wander," encounters an "almost-wolf" with "a deep voice . . . strange to my ear. Oof, oof." We the reader know that the creature is a dog because Parry translates from wolf so adeptly. But Wander knows the creature only through his wolf experience: as "almost-wolf," a meek creature who stays with his human rather than run wild with Wander.
So, part of the reader's emotional connection is the joy of understanding another species as depicted by the writer. Again, as a writer, I admire the writing. And we need to read as writers. We need to learn from what we read—whether consciously or unconsciously. Which means reading a lot!
And Wander is so lonely. He longs for his long-gone pack. Surely loneliness is a universal condition. We connect emotionally to the lonely wolf.
On top of the emotional draw that comes from "becoming" a wolf—the reader/writer admiring the writing, the feelings of loneliness and vulnerability—there's the huge emotional connection brought on by the life-or-death circumstances. Wander's very existence makes him vulnerable to starving or being shot and killed. We care so deeply for him. He must find food and hunt, or he will starve. Humans are his worst enemy. His mother told him early on that humans "can kill with a look and a loud noise." They carry black sticks that throw lightning. "A flash of fire, a clap of thunder, and the wolves go down." There is so much loss in his young life, you root for him with everything you've got. And again, you feel the injustice he faces—hurt, anger, despair, empathy.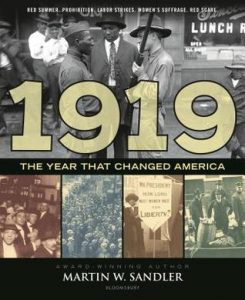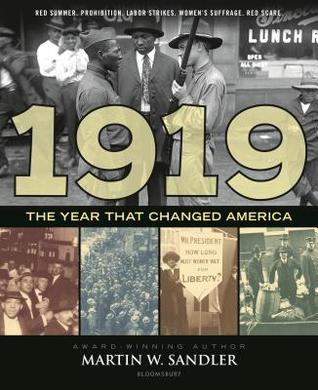 A Nonfiction Example
Nonfiction writers must also create this same kind of hook. Consider 2019 National Book Award winner for young people's literature, 1919: The Year That Changed America (Bloomsbury 2019) by Martin W. Sandler. We do not identify with one protagonist—as we might in a biography. Instead, we're fascinated by stories that surround the facts. A desire to know and to discover the interconnectivity of historic events.
Sandler's opening chapter would be humorous if it weren't so horrific. A huge vat of molasses—2.3 million gallons—explodes in Boston's crowded North End in mid-January 1919, burying people and horses alive or blowing them clear into the bay. If the reader is anything like me, they're riveted.
But molasses? Yes, as Sandler shows, molasses connects us directly to many other issues of 1919—the year that changed America. Molasses had everything to do with the slave trade. Sugar cane was grown and processed into molasses by enslaved people from the 1600s through the 1800s, which led to the racial unrest and riots that would break out across the country in 1919. Explosives were made by mixing molasses and ammonium nitrate during World War I, which had ended a few months earlier, in November 1918. Soldiers were still arriving home from that war.  The Prohibition Act had just been passed by Congress so manufacturers were frantically making rum (from molasses) before the law would be ratified and the nation would cease to drink (legally).
Women were largely behind the prohibition of drinking, in order to protect their families from drunken husbands. And they worked diligently for women's suffrage, which would become the 19th Amendment, passed in June 1919. Are you hooked? Are you curious? I hope so. There's so much information to attain in such a riveting emotional ride—racial injustice, gender injustice, immigrant injustice, worker injustice, and information about our history.
In reading this book we marvel at the fact that molasses can connect so many issues. I'm thinking of the awe or surprise emoji. Awe is a good emotional connector.
Finding Your Emotional Center
Look at your own manuscripts or books. Do they have the emotional hooks you need to pull your readers into the story?  In my picture book Josephine
(Chronicle 2014) I aimed to lure readers with Josephine Baker's exuberance and her response to racial injustice. We can all be inspired by her living her dream. The book is a dance and, as I have written, "Dancing makes you happy when nothing else will."
Loving vs. Virginia (Chronicle 2017) shows two people in love who can't be married and live where they want to live. Both romance and love are great emotional connectors, as is injustice.
Struttin' With Some Barbecue: Lil Hardin Armstrong Becomes the First Lady of Jazz (Charlesbridge 2018) shows a feisty piano-playing girl with an overbearing mother, who falls in love with the great jazz trumpet player Louis Armstrong. Injustice and love.
It reads (or is meant to) like an early jazz tune. Music might be the ultimate emotional connector.
My upcoming Lift As You Climb: The Story of Ella Baker (McElderry/Simon & Schuster 2020) is about the African American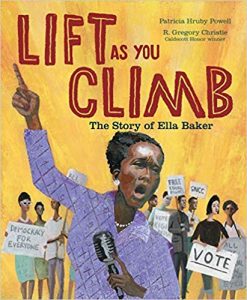 woman who worked her entire life for African Americans' right to vote. Again, injustice. Next comes my book about women's suffrage (Chronicle). Unbelievable that only 100 years ago women couldn't vote! Injustice. Look at your work and learn what hooks you emotionally. I seem to be injured by injustice. I want justice!
But maybe I'm moving on now. The life of dancer Martha Graham was about finding and presenting truth over beauty. Even though I'm a Graham-trained dancer, did I know that before I began writing about her? Not really.
So, check out your work. Where is your emotional heart? If you don't see it in your writing, is it blocked in some way? Are you afraid to reveal it? I often think that I write to discover what I know. Or to discover what I don't yet know. If your work is not evoking emotion in others, maybe you need to journal to figure out why.
I'd love to know where your emotional heart lies.
Patricia Hruby Powell, who writes in Champaign, Illinois, is comforted by her husband and her Tree Walking Coonhound. And really she's pretty happy, maybe in part because she feels she's connecting young people to their emotional hearts and helping them build empathy. At least she's trying to do that. You can reach Patricia at phpowell@talesforallages.com or at talesforallages.com