"Don't Fail Me Now" (Penguin 2015) by Una LaMarche is worth getting, for the photo on the cover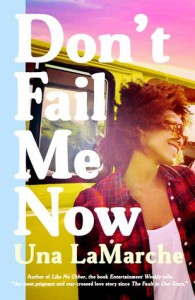 alone. But there's so much more.
When her mother is imprisoned for heroin use, 17 year old Michelle takes charge of her siblings. Cass, 13, is diabetic and withdrawn. Denny, 6, is being kicked out of school for behavior problems. Before going off to prison, their mother has charged Michelle with keeping the family together and seeking the aid of Aunt Sam. Aunt Sam doesn't care about these kids.         She says to Michelle, "'Honey,'…in a tone that strips the word of its endearment. That's nice, but what I mean is I need some rent money." She means—a lot—of rent money.
Even when her mother was clean, Michelle supported the family with her after-school job at Taco Bell in a bad Baltimore neighborhood. She has two hundred dollars saved. That won't cover her mother's bail or rent.
Tim arrives at the Taco Bell with his sister Leah and tells her that her long-absent father (who is also Leah's, as well as, Cass's father) is dying in California and has something for them. He wants them to come to California before he dies.
Michelle and Cass knew there was a half sister, but had never met her. Oh yeah, Michelle, Cass, and Denny are black, as is their mother. Leah is porcelain-skinned and blonde, as is her step-brother, Tim. Everyone is surprised. But the reader might be even more surprised by their journey.
Still, it's believable when the five kids take off cross-country in Goldie, the thirty year old heap of a car that Buck, their white father, left with Michelle's mother thirteen years ago. They are so down, there's no further to go—they think.
The poor black family knows how to be resourceful—although they will not beg. They have their pride. They stop at malls to eat the food left on the tables. The rich white kids have their resources, too. Leah finagles a fresh hamburger and fries from McDonald's. The white parents stop payment on Leah's credit card—the very first night at a motel. The parents know their location. For a moment. An amber alert is issued for the runaway—or kidnapped—white kids.
The two families of siblings are hostile to each other—particularly Leah and Cass—but through complicated and fascinating shifts, it changes, sometimes through the innocent questions of the youngest, Denny. They become a family.
With Michelle's $200, they buy cheap blankets and a tent and camp at free sites. They siphon gas from concerned motorists, never stealing it. They suffer disasters that are real and keep pages turning at a rate.
The book definitely brings tears, but this is no tear-jerker. You love this damaged family and they deserve your tears. Because this is a young adult book, you assume there will be hope at the end and there is. It's not gratuitous, it's real. Terrific book!
Patricia Hruby Powell's book Josephine: The Dazzling Life of Josephine Baker was awarded a Sibert Honor for Nonfiction, Boston Globe Horn Book Nonfiction Honor, and a Coretta Scott King Honor for illustration. talesforallages.com