Literary voice can refer to an author's complete body of work—their quality, style, and character of writing. We might be able to identify the voices of Charles Dickens, Stephen King or Shel Silverstein by their unique syntax, attitude, style—without seeing a credit line. And then there's the voice of an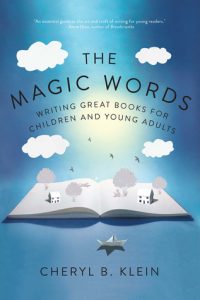 individual work by a specific author. In her book The Magic Words, Cheryl Klein defines voice by the equation: Voice = Person (POV) + Tense + Personality.
These two definitions of voice overlap. I want to concentrate on the individual work—to help us all read analytically and to develop our own voices.
When you read a book you should always analyze the point of view. Is it told in the first person? The unusual but doable second person? Or third person? And is that third person limited to one character or is it omniscient—a God-like narrator who can see what each character is seeing and feeling? Omniscient viewpoint is rarely used in children's literature, but any rule can be broken.
The first line (or lines) of any book should introduce the entire work. In that first line, we'll identify the point of view of the character, the tense used, a sample of the narrator's vocabulary, grammar, tone, (which is part of the "personality" of the above equation) and maybe other elements such as the setting or the topic. That first line introduces the voice. And it's the seed from which the entire book will grow.
First Person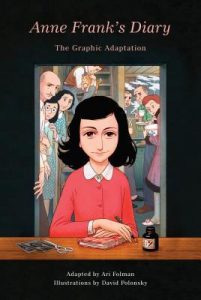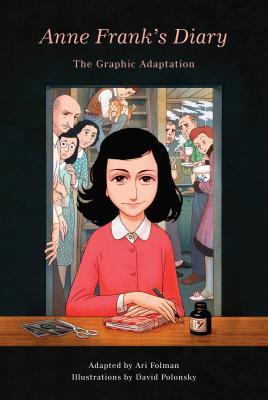 Anne Frank's Diary: The Graphic Adaptation (Pantheon 2018) adapted by Ari Folman, is, by definition, told in the first person. It's a diary. (The original is The Diary of a Young Girl by Anne Frank). The opening line of the adaptation is:
No one would believe me, but at the age of 13, I feel totally alone in this world.
"I" indicates 1st person and is the young Jewish girl, Anne Frank, who survives for two years by hiding from the Nazi regime, in the attic of a warehouse in the Netherlands, 1942-1944. Anne speaks in the present tense unless she's describing a story from the past.
The first line is a powerful seed. The central character is 13 years old, lonely, and "no one would believe" this because—as we'll eventually find out as we read—she puts up such a cheerful and feisty front.
Just to throw a wrench in the works, because this is a graphic novel adaptation we also see Anne in the remarkable illustrations of David Polonsky. So in a way, we get two points of view, Anne's 1st person text, and then a 3rd person limited view in the artwork. Someone might argue that it's an omniscient 3rd person point of view. It could be either. The illustrator is looking in on the Frank and van Daan families and Mr. Dussel in the Secret Annex, plus Miep and other helpers on the "outside," as well as SS Officers. But we're still seeing all these characters driven by Anne's 1st person narrative, and oftentimes through her visual fantasies.
Third Person Limited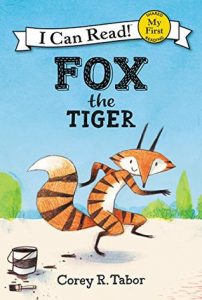 Fox the Tiger (Balzer & Bray 2018) by Corey R. Tabor, an award winning first reader, begins:
"I wish I were a tiger," says Fox.
The words "…says Fox" shows that this is present tense, 3rd person limited from Fox's viewpoint. This is Fox's story. The dialog is in first person, as is natural, but the book is in 3rd. The author uses the subjunctive, "I wish I were." The grammar is impeccable, which seems right for a first reader. Overall, an author establishing voice doesn't have to use correct grammar if her voice character wouldn't. But this is an erudite fox. Incidentally, the satisfying ending is: Fox is glad to be a fox.
Second Person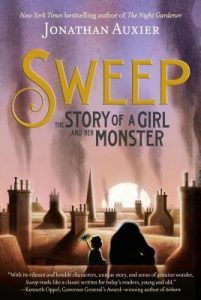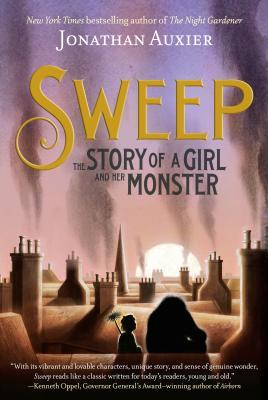 Second person is most likely to be used in a self-help book, where an author is directly addressing you. In literary work, second person might be used for brief moments when the author breaks from the story to address her reader.
In Sweep: The Story of a Girl and Her Monster (Amulet 2018) by Jonathan Auxier, see how the author speaks to the reader in the Prologue.
…if you are very, very lucky, you might even catch a glimpse of the girl and her Sweep.
Look! Here they are now, approaching through the early fog: a thin man with a long broom over one shoulder, the end bobbing up and down with every step. And trailing behind him, pail in hand, a little girl, who loves that man more than anything in the world.
The author "breaks the 4th wall" (to use a theater phrase) and addresses the reader: "if you are very lucky . . . Look!" He introduces his characters to you the reader, personally—2nd person point of view. The rest of the book will become, 3rd person limited from Nan's point of view:
It was dark in the coal bin, but Nan could tell it was Newt who was asking. Newt was the newest to Crudd's crew.
And what else do these early lines show us? "Fog," "long broom," "pail," "coal bin," "crew." They're a team of child chimney sweeps in London. The characters' names (Newt, Crudd, Nan) are Charles Dickens-like, as is the setting, as is the theme—impoverished laboring nineteenth century children.
When Angels Sing: The Story of Rock Legend Carlos Santana (Atheneum 2018) is told very effectively in second person by author Michael Mahin.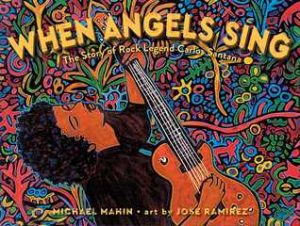 When you were born, your tia abuela called you el cristalino, the crystal one. She thought the light of angels shined through you.
Your father wanted to name you Geronimo, after the brave Apache freedom fighter. He was proud of his mestizo blood. 
At first, the intimate stories sound like a mother's lullaby—but a little later the author mentions "your mother." The reader realizes that the voice is an omniscient God-like voice giving an overview of Carlos's life. So instead of speaking to "you" the reader, the author is speaking to his subject, Carlos Santana.
Which Should You Use?
So how do you choose to use 1st, 3rd, or even 2nd person point of view? You should probably experiment with some scenes from your manuscript(s).
First person allows us, as writers, to get inside the brain and eyes of our main character. But more importantly it allows us to feel what our character is feeling and convey these emotions to the reader. This can certainly be done in the third person, but sometimes doing the exercise of revising your third person work into first person can be a great exercise for getting closer—so close you're inside—your character. It's much more than doing a universal change of "she" to "I" and adjusting the grammar. You have to do the work of becoming another person. Acting can help. Become your character—each of your characters—get inside their skin, walk like they do, greet people as that character might greet people. Go through the day, or the hour, being this character. Once you've changed a passage or chapter or entire novel to first person, then you might want to return it to third person, with the added insights and closeness which you developed while it was in first person. Or maybe you want to keep it in first person.
The author has certain advantages, using 3rd person point of view. The author may use somewhat more advanced (and therefore specific) vocabulary or even use ideas that your young and/or naïve character might not be able to use authentically.
Consider syntax, grammar, tone, and dialogue. Look at more examples.
What about this first line and the few lines that follow?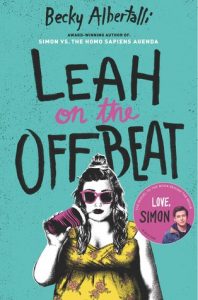 I don't mean to be dramatic, but God save me from Morgan picking our set list. That girl is a suburban dad's midlife crisis in a high school senior's body.
Case in point: she's kneeling on the floor using the keyboard stool as a desk, and every title on her list is a mediocre classic rock song.
1st person, present tense. If you don't pick up "set list" in the first line, you'll catch "keyboard" and "rock song" in the next paragraph. Our character is a musician. Our point-of-view character is more sophisticated than Morgan, or thinks she is. Superior? Dramatic? Oh yeah. Profane throughout. Hip, contemporary, sarcastic and distinctive. This is the young adult book, Leah on the Offbeat (HarperCollins 2018) by Becky Albertalli, which delivers voice in spades.
Try these lines.
I'd seent plenty of animals by the time I was old 'nough to start talking, but only one kind worked me up so much that it pult the first real word I said out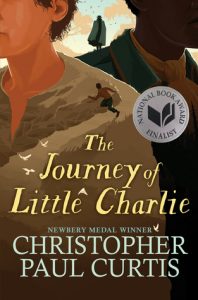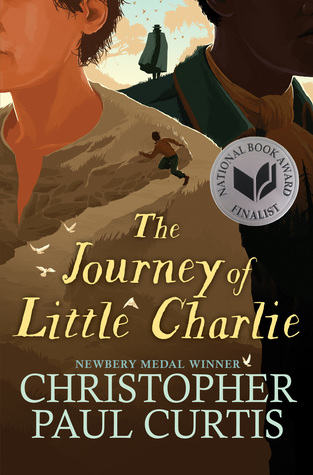 my mouth.
1st person, past tense. Using dialect can be tricky. I admit that at first I was annoyed because it slowed my reading considerably. But, one, I got used to it; two, the author lets up somewhat once he's established his voice; and three, it's done by master multiple Newbery winner, Christopher Paul Curtis. This is the middle grade The Journey of Little Charlie (Scholastic 2018).
What does the author's unique vocabulary and syntax suggest to you about who the speaker might be? About his level of education? About his imagination? Do you wonder about his race? Curtis never tells us the answers to these questions, but shows us by many small actions who Little Charlie is. Read the book and see if you think Curtis is playing with our preconceptions of dialect.
Analyze everything you read. That is, read like a writer. Here are a couple to analyze: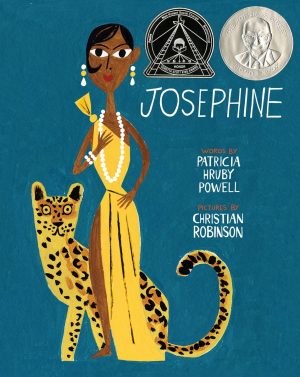 Josephine
            danced a sizzling flapper dance—
the Charleston.
Does it suggest attitude, setting, theme? This is the middle grade picture book, Josephine: The Dazzling Life of Josephine Baker (Chronicle 2014).
How about:
Yessir, Lillian Hardin
was proud to be who she was.
Do you detect attitude? Theme? Could this be the woman who had enough ambition for both herself and Louis Armstrong? This is the middle grade Struttin' With Some Barbecue: Lil Hardin Armstrong Becomes the First Lady of Jazz (Charlesbridge 2018). What point of view and tense are the last two?
How about: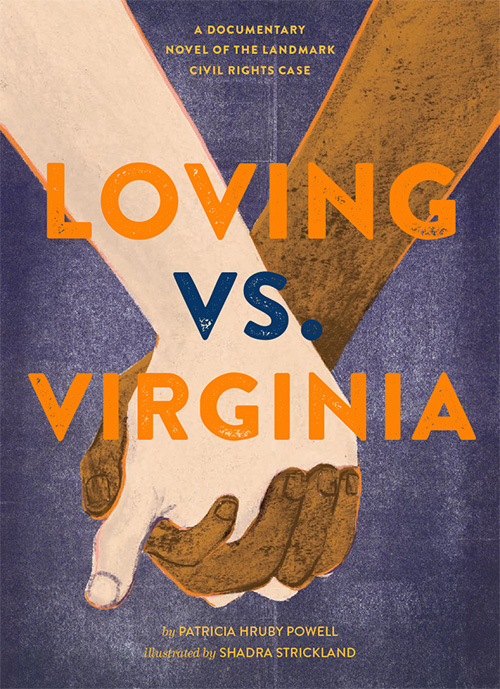 Garnet and I walk in the grass
alongside the road
to keep our shoes clean,
but Lewis doesn't care.
What person? 1st, 2nd, or 3rd? What tense? What does it suggest about who she is? This is Mildred's opening in the young adult Loving vs. Virginia: A Documentary Novel of the Landmark Civil Rights Case,which begins with civil rights photos and documents. Mildred's chapters alternate with Richard's.
So look at the first line of whatever you're working on now. Is it a seed from which your entire story can grow? Is the voice powerfully indicative of your narrating character? Does the first line offer a hint of the setting or the theme or the plot?
Do you take exception to any of the samples I've offered? Disagree? Have questions that will take the discussion deeper? Have examples of your own? We'd all love to hear from you. Try #writersvoice
First published in The Prairie Wind, the newsletter of the Society of Children's Book Writers and Illustrators, Illinois. https://illinois.scbwi.org/prairie-wind-2/current-issue-of-prairie-wind/writing-tips/
Bio:
Patricia Hruby Powell writes in Champaign, IL, mostly about remarkable women who threaten to be lost to history: Josephine Baker, Lil Hardin Armstrong, Mildred Loving; upcoming are Ella Baker, Alice Paul, Lucy Burns and others.