"A Dog's Way Home" by Bobbie Pyron (Katherine Tegen 2010) alternates the stories of spunky 6th grader, Abby, and Shetland Sheepdog, Tam, an agility champion.
Both the fact that this is a middle grade novel and by its name, you can be pretty much assured that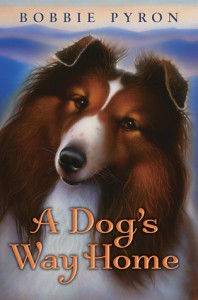 things are going to turn out okay—that the lost Tam will find his way home. Otherwise I couldn't bear to read it. Gone is the era of "Old Yeller" and Bambi's mother being shot by a hunter. I appreciate the fact that nowadays we protect our young from…well…devastating outcomes.
That said, plenty goes wrong for both girl and dog. In fact, I can barely believe that the dog, always in pursuit of food, could survive attacks from the claws of a raccoon, then a bear, the quills of a porcupine, not to mention his traveling hundreds of miles through snowy mountains, but he does. I'm passionately rooting for him, turning those 324 pages fast as I'm able.
There's plenty of sorrow—more than I anticipated—but it makes the story stronger. Throughout the day I read the book, one or both our dogs slept at my side. When the eagle swoops down on Tam, gouging him with her talons, to steal his rabbit dinner, my little hound twitched in her sleep. I might have been reading her the story. When the man hurls a bottle at Tam, my Lil groaned in her dream.
Abby's belief in her dog, her instinct that he's coming home to her moves us almost as strongly as Tam's adventure. Her family must move from the North Carolina hills to follow her struggling country-singing father when he gets a contract to record in Nashville.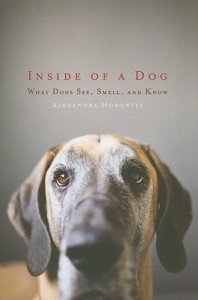 The final chapters alternate faster and faster, getting shorter and shorter—Abby, Tam, Abby, Tam, hurrying you along. You don't care that it's late at night and you should turn out the light. You read to the end and for days after you remember both Tam's plight and Abby's dedication to her dog. At the end I didn't cry politely, but blubbered out of control. In gratitude and relief.
Tam is never anthropomorphized, but remains a dog through and through. Having just read "Inside of a Dog: What Dogs See, Smell and Know" by Alexandra Horowitz (Scribner 2009), I'm privy to the latest, abundant research on dogs. Author, Pyron, clearly is, too.
Patricia Hruby Powell (www.talesforallages.com) is a children's book author, nationally touring speaker, dancer, storyteller, and librarian.