A shy talented pianist, Hazel, falls in love with James, a gentle man who aspires to be an architect. But this is 1917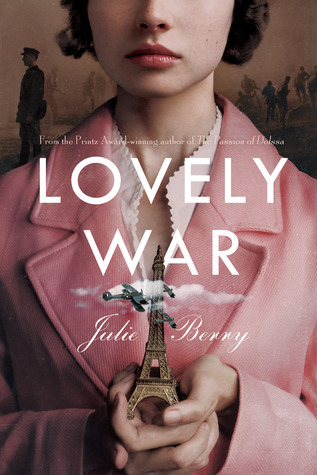 London and WWI is raging. James is unexpectedly called up and shipped out to France to fight in "Lovely War" (Viking 2019), by acclaimed author Julie Berry.
Aubrey Edwards, a Harlem ragtime musician, enlists and becomes a member of the United States 15th New York Infantry, an all-black regiment of soldier-musicians under the direction of the great jazz composer/band leader James Reese Europe. The 15th regiment is employed to both play jazz and dig trenches, rather than the "glorious" job of fighting.
Hazel, wanting to help the war effort and perhaps visit James when he's granted a leave, travels to Saint-Nazaire, France to serve at a YMCA relief hut at an American training base. There, she meets Colette Fournier, a Belgian singer, who has lost her entire family to the Germans. Colette and Hazel become fast friends. They befriend the African American Aubrey and are both smitten with his piano playing—Hazel as a fellow pianist, Colette as a chanteuse. All three are breaking rules by meeting around the piano late at night. Need I say, the book is about war, love, and racial divide. Plus . . .
The story is narrated by Olympian goddess of love, Aphrodite—a story she tells her husband Hephaestus who has just caught his wife cheating with Ares, god of war. Rather than living on Mt. Olympus, the gods reside in a luxurious Manhattan hotel room in the 1940s during WWII.
Back in France, WWI, Hazel watches Colette and Aubrey fall in love. In the gods' world Aphrodite invokes the four lovers' story of struggle during wartime, to plead her case to her jealous husband. We fall deeper in love with Hazel, James, Colette, and Aubrey. When white racist American soldiers witness black Aubrey with white Colette together, Aubrey is whisked away to play jazz throughout Europe lest he be murdered by racist white American soldiers at the base. Colette and Hazel are accused of being wanton women by the proprietor of the boarding house and cast out.
In the meantime, James turns out to be a skilled sharpshooter, requiring him to be placed in intensely dangerous battle situations.
War brings tragedy, of course. And war promotes intense love. Berry is a master of weaving historical details into well-crafted beautifully-written fiction. If you love war history or jazz history—and even if you don't—you might want to experience hope in the face of destruction. Highly recommended.
Patricia Hruby Powell is the author of the award-winning Josephine; Loving vs Virginia; and Struttin' With Some Barbecue and the forthcoming Lift As You Climb.  She teaches writing classes at Parkland College.         talesforallages.com