In the USA, Black people make up 13% of the population, yet they are 40% of the incarcerated population, Ibram X. Kendi tells us in the introduction of "Stamped: Racism, Antiracism, and You" by Jason Reynolds and Kendi. "Stamped" is a "remix" of the national Book Award-winning "Stamped from the Beginning" by Ibram X. Kendi.
This snappy young adult (or any adult) version begins with a history of racism dating back to 1415 when Portuguese Prince Henry convinced his father King John to capture the Muslim trading depot in Morocco and take the riches of Black Africans. Man's downfall always seems to come down to greed.
White Portugal enslaved Black Moors—as more spoils of war. It has never been unusual for the victor to enslave their vanquished, and oftentimes it has been Whites enslaving Whites. At this time a White man known as Zurara wrote a chronicle championing the idea of Christianizing African "savages." That narrative was a hit, and it convinced some Black men that they were indeed savages—inferior to Whites.
A Black man, Leo Africanus, wrote about hyper-sexual Black savages who "needed" to be enslaved and taught about Jesus. Written documents are powerful. They can be disseminated to the masses. And that is how racism became institutionalized, say Reynolds and Kendi.
The authors divide the population into 1) segregationists, the "real haters," 2) assimilationists who only "'like' you because you're like them," and 3) antiracists who "love you because you're like you." Back to the history.
Puritans arrived in America in the 17th Century believing themselves to be the chosen people, superior to others. This laid groundwork for the justification for over-running indigenous people and enslaving Black people. For the sake of their own riches, rich White men devised ways for poor Whites to turn against poor Blacks, creating White privilege (which still exists to this day).
Enter Cotton Mather who convinced people that, "the only mission of slavery, had to be to save the souls of slaves, because through salvation the enslaved would be whitened. Purified." Whiter meant purer!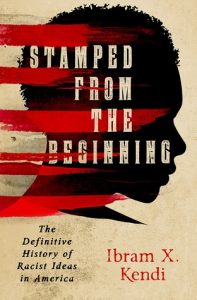 The many brief chapters include the history and ideologies of Thomas Jefferson, Abraham Lincoln, Booker T. Washington, and W.E.B. Du Bois. Don't assume that anyone listed is lionized. Booker Washington and Du Bois were both assimilationists (category 2) for decades, fighting for White approval, until Du Bois eventually headed toward antiracism. And working toward the present—Martin Luther King, James Brown, John F. Kennedy, Lyndon Johnson, Richard Nixon. Again, don't expect to find heroes, except maybe Angela Davis. Do expect to learn.
Reynold's briefly outlines the plots of books and movies popular through modern history and shows how they both represented and guided people's opinions—Harriet Beecher Stowe's "Uncle Tom's Cabin"; the outrageously racist movie "Birth of a Nation"; "Tarzan"; and "Planet of the Apes."
There is so much here to study and assess. Everyone should read it. Everyone.
Patricia Hruby Powell teaches "Write Your Story" for Parkland College Community Education. Her newest book, Lift As You Climb: The Story of Ella Baker is available, signed from Jane Addams Bookstore or available wherever you buy books.         talesforallages.com