Ronney, fifteen years old, takes care of his little sister Mina. He repairs the damaged wall, reseals the driveway,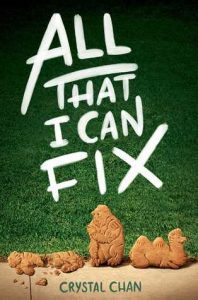 and has the carpet changed because it's soaked in blood. Why? His depressed father rarely gets out of his bedroom or even his pajamas, since he lost his job, and attempted suicide. And Ronney's mother is busy supporting the family and popping pills to calm herself in "All That I Can Fix" (Simon Pulse 2018) by Crystal Chan. "We're the mixed-race family with two helpless parents, the genius kid sister, and the fix-it son."
Ronney's world is falling apart in Makersville, Indiana. What's more, a keeper of exotic animals has released them all—lion, cheetah, tiger, python, wolf, and others—then shot himself. Not only are the animals loose in town, but so are gun rights activists who say they need guns to protect themselves and gun control activists who are horrified by the pro-gun people shooting the animals. Adults clearly cannot be trusted here.
Ronney's best friend Jello suggests a suburban safari to make his name as a wildlife photographer. Ronney, thinking this is childish, muses, "Maybe having normal parents means you get the privilege of being a kid." Ronney's mother "deemed [Jello] 'a good influence on me,' which illustrates her total lack of judgment."
Ronney yearns for George, a girl on the valedictorian track. Ronney notes her problems: "It has to be pretty precarious, to have only perfection or the abyss as your two real options in life." George allows Ronney to comfort her, but he's not her boyfriend. That's painful.
Then a mysterious little kid Mina's age—about nine—starts following Ronney. The annoying little kid, Sam, wants Ronney to "fix" his broken family. Sam's big brother Nick disappeared months ago. Sam sobs, "Like . . . the end of the world is upon us sob. And what could I do?" Ronney sees that "the love that [Sam] had for Nick was big enough to hold up the sky."
Ronney used to feel that way about his dad, but after a year of disappointment, that big love for his father seems to have snapped off. When his father says, "My life had gotten too heavy." Ronny calls him pathetic, a hypocrite, and "you'll like the new carpet I just installed. . . don't mess it up again." Ronney's cruel and honest, after all he's been through.
The animals have killed area livestock and family pets and now they're going after people. Gun-toting residents are going after the animals. Everything is a mess and it's pretty dark. Yes, that shooter might have saved a woman's live, but "forty-four bullets for one cheetah was a bit much."
The boy repartee of sarcastic profane Ronney with Jello is a riot. Take my word for it and read the book. It's wickedly funny. But loyalty and love prevail. Complicated issues invite discussion. This is a winner.
Patricia Hruby Powell is author of Loving vs. Virginia; Josephine: The Dazzling Life of Josephine Baker and the forthcoming Struttin' With Some Barbecue   talesforallages.com