It's not easy for sixth grader, Jordan, who is an average violin player, not terribly pretty, not a great student, can't play chess worth a darn—when there are people in her class who are terrific at all those things. Besides, it's sweltering hot at the end of the year and her central Illinois school has no a/c in "About Average" by Andrew Clements (2012).
"Average" Jordan has mistakenly discarded a list of what she's great at (not much). Marlea reads it aloud in the girl's restroom to humiliate our heroine. Babysitting is at the top of the list. The other girls laugh, Jordan is bereft, but we, the readers, are afforded a look inside Jordan's exquisite thought process—what she'd like to see happen and how she arrives at those wishes.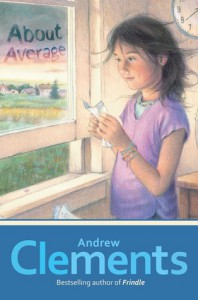 The author writes, "Jordan's memory was a powerful force. A moment from the past would sneak up and kidnap her and then force her to think about it until she discovered something she didn't know she knew."
Her thought process seems so familiar, so real. It takes a fine author like Clements to uncover the inner workings of this realistic, flawed and loveable heroine. When she's accused of cheating at chess, we're told "she sure wouldn't have wasted any criminal talent on something as pointless as winning a game of chess."
She has a crush on Jonathan and she has to admit that it's because he's so cute. Which make her just as shallow as Jonathan, who likes pretty girls—prettier girls than Jordan. Still she's sure Jonathan is a good person. Anyway, she would like him even if "he enjoyed ripping the arms off of teddy bears." Which is something Jordan did once as revenge when her big sister pulled the head off her Barbie doll.
Jordan decides to experiment with forgiveness. In answer to Marlea's ongoing meanness, she decides to respond with "…industrial-strength niceness. Awesome niceness. Award-winning niceness."
It's not easy, but she answers each of Marlea's quips with just that—awesome niceness. It stops Marlea's attacks and sets us up for the grand ending when some full blown central Illinois weather whips into town. As a result of her actions, Jordan wins some industrial strength respect.
Besides the pleasure of being inside Jordan's head, the reader will get a taste of central Illinois, its weather (oh boy), and glimpses of the local blue and orange. Yes, Clements lives in Massachusetts, but he once lived in Illinois.
Patricia Hruby Powell (www.talesforallages.com) is a nationally touring speaker, dancer, storyteller, librarian and children's book author.