One girl, Yahaira, in New York City says goodbye to her father, when he leaves on his annual summer trip to Dominican Republic. One girl, Camino in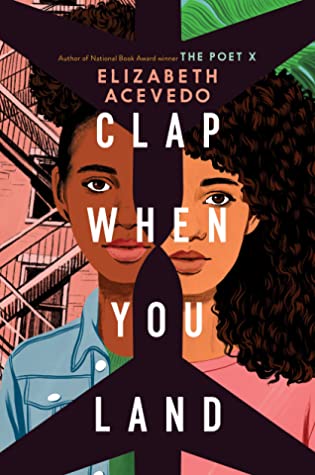 DR awaits her father to arrive for his summer-long visit where she will clap when the plane lands, as is the custom. But the plane crashes at the onset of "Clap When You Land" (Harper Collins 2020) by the remarkable poet Elizabeth Acevedo.
Camino has been raised by her aunt, Tia Solano, after her mother died. Tia is a curandera, a healer. Because she consults "the Saints," some would call her a witch. But her healing with herbs offers effective cures in the barrio where they live. Camino accompanies Tia to births and visits to the ill. In fact, Camino wants to study medicine at Columbia University in NYC. She's a good healer and an excellent student.
Yahaira lives with her mother in Harlem. She's a bit spoiled by her doting Papi and her angry Mami who manages a nail salon. Yahaira's girlfriend, Dre and Dre's mother, a doctor, are a second family to her. Until recently, Yahaira has been a chess champion. Dark like her father, she traveled the nation with him for her championship tournaments.
In DR Camino lives in a poor barrio a short run to the beach. Camino says: "this thin body better fed than most, curved softly/ in the places that elicit whistles & piropos; swimming/ has kept this body honed like Tia's oft-sharpened machete."
They live in a nicer shack than most of their neighbors due to Papi's money. The vecinos—neighbors—depend on Camino, Tia, and Papi with his summertime visits to help them climb out of the hardships of abject poverty. Papi pays off El Cero to leave fourteen-year-old Camino alone.
But Papi is dead. El Cero is dangerous, not just as a young man, but as a newly minted sex hustler. "I am a girl who is not full-fledged," just the kind of girl El Cero wants. Camino is in danger. And without Papi, how will she get to medical school in NYC. She can't even pay for her private school tuition in DR without Papi's money.
In NYC, Yahaira's mother is about to receive the half a million-dollar settlement from the airline. Relatives are requesting money and she's giving it. Mami is furious, but grieving deeply. Papi, always bigger-than-life, not just to his family, but to the whole hood where he owns a couple billiard halls. Everyone is mourning.
"There are pieces/of him all over/ this barrio," Camino tells us. Acevedo conveys island life and urban Harlem life as only an "own-voice" writer can—knowing it from the inside out.
The reader realizes early on that island-dwelling Camino and urban Yahaira are sisters and we witness their shocking discovery. We see how they maneuver among the adults, and how they ultimately find support in each other. What an emotional story, beautifully told.
Patricia Hruby Powell is the author of the award-winning Josephine; Loving vs Virginia; and Struttin' With Some Barbecue and the new Lift As You Climb.  She teaches community classes in writing at Parkland College.         talesforallages.com