Marcus Sedgwick's "Ghosts of Heaven" (Roaring Brook 2015) is comprised of four haunting stories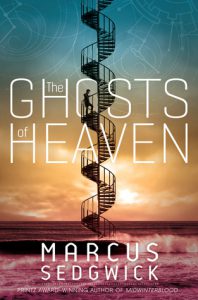 linked by the concept of a spiral. The four stories span prehistory to the future and is recommended for readers 12 and up.
A Paleolithic girl with no name is intrigued by a fern head, a snail, then the path of a falcon flying the skies. Her tribe is attacked and she runs deep into a cave—into "the black marrow of the earth." She would like to have been the tribesperson chosen to draw on the cave wall. But her people are gone now. The narrator identifies her as "she who goes ahead when others fall behind." She must communicate to those with whom she cannot speak. Can you communicate with a drawing? A glyph? She makes a spiral. This could communicate something concrete to the viewer. This is the beginning of written language.
The second story finds Anna in 17th Century England. Her mother, the village healer, dies. The vicar has also recently died so the town creates its own Christian-pagan funeral ceremony, which includes a frenzy of spiral-patterned dance. The new vicar arrives and sees devilry. With her mother gone, Anna is left to care for her epileptic brother, Tom. Besides working at the mill, Anna continues her mother's healing work, certain that she can find the cure for her brother's seizures. Anna's life is doomed when she spurns the advances of the young lord of the manor house. The townspeople, to save themselves, allow her to be hung with a spiral threaded rope when she is accused of witchcraft.
Part three takes us to a 19th century New York asylum where a new doctor with a young daughter, treats a mad poet. The poet is terrified by the spiral staircase, which suggests infinity and the endless sea where he lost his wife. In this story, you wonder who is sane and who is not—a common but intriguing theme.
In part four, a young astronaut travels in a craft, spiraling through space. Every ten years he's awakened from an induced sleep to do his turn in manning the craft. The craft is transporting a couple hundred chosen sleeping people to another habitable planet for colonization. Again, there is the theme of madness. Who wouldn't go mad in such a situation?
Marcus Sedgwick, the 2013 winner of the YA Printz Award for Midwinterblood, writes masterfully. Each of the four parts of Ghosts is written in a distinct and authentic voice, which spirals us through time, not to return to the same place we started. The four distinct stories could lead readers to genres they've never read before.
Patricia Hruby Powell's book Josephine: The Dazzling Life of Josephine Baker was awarded a Sibert Honor for Nonfiction, Boston Globe Horn Book Nonfiction Honor. Loving vs. Virginia comes out January 2017. talesforallages.com