Jandy Nelson writes ecstatically—beautifully and truthfully—about first love in her young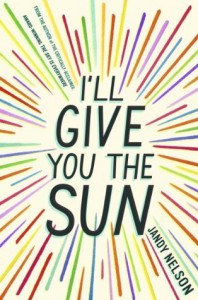 adult novel "I'll Give You the Sun" (Dial 2014), as she did in her first book "The Sky is Everywhere."
Jude and Noah are artists and twins living in northern California. Noah writes about the younger years, when they are 13. Noah—the loner, outcast, the "real" artist—is falling in love with Brian, the athlete who arrives from boarding school out east where he is a baseball star. Brian might like Noah back—he seems to—but then he wanders off with a girl. Noah is confused by this wrenching betrayal. The reader feels it right along with him. Noah loses himself in his art.
The siblings both want to apply for CSA, the art high school, but it's Noah who seems desperate to get in, to live among "revolutionaries" where he might fit in. His sister Jude seems to have it all. She's hot. She's traipsing around in a bikini with the popular girls. They've always been so close and her befriending the popular (and vacuous) crowd is another betrayal to Noah.
Noah describes the paintings he will make. One is, "Jude braiding boy after boy in her hair." He says, "She gives off light. I give off dark."
He's jealous of Jude's talent seen in the bird women she sculpts from sand on the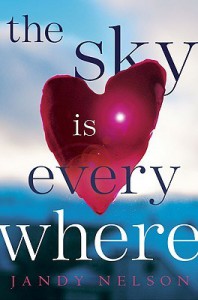 beach. Noah snaps photos of them, then destroys them before the tides wash them away. Then he deletes the pictures so his mother doesn't see them. Afterall, he finally has his mother's undivided attention. Noah feels that he has finally eclipsed Jude, the golden girl, in his mother's eyes.
Jude conveys the later years, when they're 16. Now she is the outcast. She's chopped off her beautiful flowing blond hair, dresses in baggy sweat clothes, and is a hypochondriac. Now the voices alternate back and forth as we find out what happened in those three years in between—from 13 years old to 16. First we think one thing, then another, until finally the picture comes together. Jude falls in love for the first time at 16 and it's another whopper of ecstasy and danger.
A young British man, shows up in both Jude's and Noah's story. The way he looks at Jude, she says should "be illegal or patented." Nelson's use of words is powerful, succinct, wonderful.
This is deservedly a National Book Award Finalist for Young People's Literature. The ending is perfect for young adults. Being a not-young adult myself, the ending was a little too ecstatic for my somewhat jaded tastes, but great for bedtime reading. I don't mean to say the book itself does not include some heart wrenching real tragedy. It does. But you can usually count on hope by the end of a YA book, if not ecstasy.
Patricia Hruby Powell's book Josephine: The Dazzling Life of Josephine Baker won a Boston Globe Horn Book 2014 Honor for Nonfiction and a Parents Choice Gold Award for Poetry.