In Pat Schmatz's "Bluefish" (Candlewick 2011), Travis, 13, has to move into town and live with Grandpa. Travis' heart is broken over his lost hound, Roscoe. And school is painful.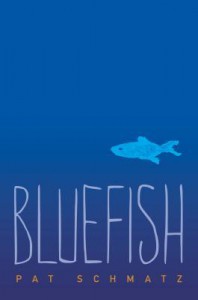 Grandpa has stopped drinking, but Travis knows it won't last.
The only bright spark in his life is classmate, Velveeta, who is the liveliest, flirtiest girl, who wears old lady scarves—different colors every day—with her hoody.
Velveeta inherited the scarves from Calvin, the old man who lived in the next trailer, the one who bought her school supplies each year, who helped her build confidence, but now he's died. Actually, the scarves belonged to Calvin's wife, but she's been gone for years.
Travis and Velveeta's stories alternate. Taciturn Travis is voiced in the third person, which is perfect for his strong silent character. Vivacious Velveeta, in the first person, writes to Calvin. So we get to see what Travis is feeling and Velveeta shows her feelings. Perfect.
Travis and Velveeta like each other—really like each other—but relationship is complicated between two eighth graders, especially when each has a big secret. Can they trust each other? Help each other? You want it for them. They are both so likeable. And believable.
If Velveeta goes home to her own trailer, she must suffer her selfish alcoholic mother, so she moves into Calvin's empty trailer. Until she gets kicked out by Calvin's grown daughter.
Travis cuts class and sets out on foot to the country to find his dog. When the trip goes wrong, Travis acts like a kicked dog. Back at school he snaps at Velveeta.
Velveeta, clever girl, figures out Travis' big secret just as you, the reader, will. She tries to help him, but she's just a kid and maybe a little awkward in helping. Travis snaps again.
Now Velveeta is no longer Travis' friend and his dog Roscoe hasn't been found. School gets worse. He longs for some bully to start a fight with him so he could "blow loose all over them" and it wouldn't be his fault. But the bully won't start and Travis won't start it.
Thank heavens for McQueen the reading teacher. With his help and Velveeta's smarts, maybe Travis will break out of his self-made prison of anger and loneliness.
I loved these characters and the writing. I bet Schmatz follows through on Velveeta's story in her next book.
Patricia Hruby Powell is a nationally touring speaker, dancer, storyteller, occasional librarian, and children's book author. She has new books coming out with Chronicle Books.