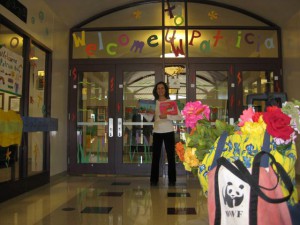 "In working with you, my daughter has not only enjoyed herself, but has blossomed. You have changed the way she expresses herself and sees her world. You've helped her to realize the power of words, especially verbs! Her stories and descriptions of life's situations are more potent and concise. To inspire and create a spark in the imaginations of the youth today is truly a gift. I feel very blessed, not only to experience your vivacious techniques in my classroom, but to see your effect on my own child. For that, I thank you. AMAZING!"
– Sincerely,
Stephanie Alves
1st grade teacher and mother
Workshop/Programs
A Vision of Hope: How Children's Books Can Save Us 
The Complete Storymaker (how to tell, or teach story/drama/writing in the classroom) (for schools, adult retreats and conferences)

Includes: Do A Verb; Constructing Quest Plots; Analyzing Quest Plots

Inspiration, Research, and Process of Writing Josephine (for schools and adult conferences)
Where Do You Get Your Ideas? (for schools or adult conferences)
See Hear Do Say: Developing Multiple Intelligences (adult conferences)
Why We Need Diverse Books (for conferences and panels)
Josephine Baker: Jazz Age Idol (silent films & lecture – adult conferences)
Writing Terrific Characters (for writers)
Writing Family Stories (for writers, students, genealogy enthusiasts)
Writing Love Scenes (for writers)
Move Your Story Along (using gesture/movement in storytelling)
Or consult with me and together we can customize a program to meet your needs.
Teacher's Hand-Outs
Bibliographies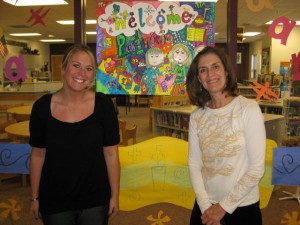 "Your energy and creativity lifted us that day, and we were energetically immersed in a swooping session of words, ideas, thoughts, movement, color, and passion.  The students really responded to you and to each other as they thought, acted, stretched, self-corrected, and kept on trying!  I definitely love what you do in the classroom, and I want to do what you do!  It's so creative!
"As well, thank you for showing us how you write stories, how you work with illustrators, how you take and release ownership of your work for the benefit of the published piece – all of this helps us see the possibilities for our own selves as future authors, illustrators, publishers, readers, and teachers.
"Your lesson plan format and modeled lesson will help me in my future writing classes.  Thanks again for sharing, and we are all the better for it."
– Peace!
Mary Anne Jusko
Gr.5
Robeson School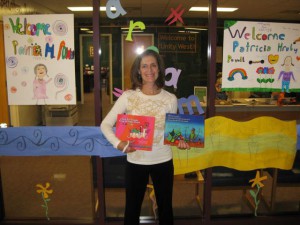 "Thank you so much for a wonderful performance last night at Family Reading Night! You made a definite impact on Kaleigh. She loves to read anyway and you only strengthened that love!"
– Keri Alagna-Adams,
parent of 2nd grader
St. Joseph Elementary, St. Joseph, IL
Patricia is on the Illinois Arts Council's (IAC) Arts-in-Education Roster and the Artstour Roster and her programs can be partially funded (from 35-60%) by the Illinois Arts Council.
Schools or School Districts belonging to State Reading Councils, such as the Illinois Reading Council (IRC), might consider submitting a grant proposal to their State Reading Council to help fund an author visit. The deadline for proposals for the IRC is in early June.
The Urbana School District received funding from the IRC, the IAC and the Urbana School District to bring Patricia in to conduct mini-residencies in each of the six Urbana elementary schools for Fall/Winter 2004.
Visit Patricia's page on The SCBWI Speaker Directory.
Her work has been described as follows: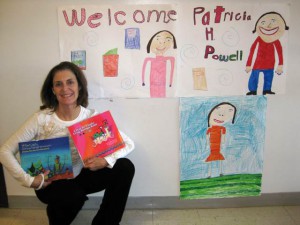 "Patricia Hruby Powell presented her delightful mix of storytelling, dance, and love of writing to our large diverse student body. She was warm engaging, comfortable and sincere in her dealings with both large group assemblies and with individuals — students and teachers. A year later, the students are still talking about her visit and asking when she'll return."
– Barb Luther
Librarian, Central Primary School
Bloomfield, NM
"You are my favorite author. You are my favorite storyteller.
I like the moon walk. How did you do the magic? Were you
really pulling on a rope? Please come back."
– Angela, Chelsea, Ryan, David
4th graders from Pasco County
Tampa, FL
"…funny…clever…provocative…and intensely warm and bold."
– Laura Barbour, Philadelphia
"Patricia touched the hearts of many and enabled us to reach our goal for encouraging families to share the joy of reading."
– Mary Kay Hostetler, Springfield, IL
Feitshans School Principal
"Anyone who can keep several hundred intermediate students enthralled for 45 minutes is truly exceptional. Not only are you a talented story teller, you are skilled at keeping children focused and attentive. Your performance was dynamic and unique. I strongly recommend anyone considering scheduling you for an appearance at their facility, to contact you without hesitation."
– Mrs. Georgia Butler, New Port Richey, FL
Intermediate teacher at Anclote Elementary
"I invited Patricia to perform dramatic readings of several short stories by young authors for a recent book release party. She was magnificent! Patricia made the stories come alive – and what an inspiring experience that was for the young authors who were in the audience. I'm sure the kids and their friends and families will never forget it."
– Debbie Mitchell, Events Director
Magic Tree Bookstore
Oak Park, Illinois
Workshops
Move Your Stories Along (how to use gesture/dance/mime with your stories)
The Complete Story Maker (how to tell or teach story/drama/writing in the classroom) (also for adult retreats and conferences)
Character Development (in novels and picture books for fiction and biographies)
Storytelling Programs:
Arabian Nights*
LOVE YOUR MOTHER…EARTH
Moving
Stories Circle the World (for children or families)
Blossom Tales (for families, adults, or children)
Mothers, Daughters, Sisters, Grandmothers (for families or adults)
Weaving a Family Web (for families or adults)
An Evening With Jane Austen, Emily Brontë, & Emily Dickinson (for adults or high school students) (performed in costume with set)
* In Arabian Nights, Patricia tells stories of Shahrazad (Scheherazade) and the 1001 Nights, the stories that the young bride told her king to keep him fascinated so he would not behead her.
Premiered August 28 and 29, 2004: Genesis at the Crossroads brought Patricia to tell stories at "From the Middle East to the Mid-West," a peace initiative. A village of tents transformed a block of State Street in Chicago to showcase the literature, vocal music, dance, and culinary arts of the Middle East and North Africa. The camel rides took place next to the Children's Tent.
"Your innovative, beautiful storytelling made quite an impact! We look forward to working with you again soon."
– Wendy Sternberg
From the Middle East to the Midwest Festival
Genesis at the Crossroads Founder and Co-President
(Suggested break-down of performance and workshop age ranges:
grades: pre K, K-2, 3-5, 6-8, 9-12, adult: all performances are customized for audience)
Matching Content of Performance to Age Group (suggested):
preK: medley of Mother Goose, tied to a story "journey"
preK- 6th grade: folktales from around the world accompanied by world-wide percussion instruments (mbira, rainstick rattles, drums). Custom-designed for youngest, middle, and older children; participation stories. Animal sounds and movements.
6th grade through adult: Original family stories by Patricia who is an award-winning author. Literary dramatic portrayal, in costume, which includes readings of the named authors; see Austen, Brontë, Dickinson
Festivals and Venues, selected list
American Library Association Annual Conference – San Francisco 2015

Simmons College Colloquium  – Boston Globe Horn Book Award Conference 2014

Northern Illinois University Children's Literature Conference 2015

Nevada Reading Association Conference 2010

Illinois Reading Council Conferences: 2004, 2005, 2006, 2008, 2009, 2010, 2014

Read Across America Celebration – 2012, 2013, 2014

Illinois Storytelling Festival
Northlands Storytelling Conference
WILL-TV Storytelling Festival
National Storytelling Conference
Big Grove Storytelling Festival
Mt. Carroll Storytelling Festival
Millersport Sweet Corn Festival (named 1996 Storyteller of the Year runner up)
Kennedy Center, Washington D.C.
Detroit Art Institute
Arts Centers throughout the U.S., Central America, South America, Caribbean, Europe
Schools, Libraries, Universities throughout Illinois and the U.S.