My choice for the Newbery Award for 2011 would have gone to "One Crazy Summer" (Amistad – HarperCollins 2010) by Rita Williams-Garcia. It is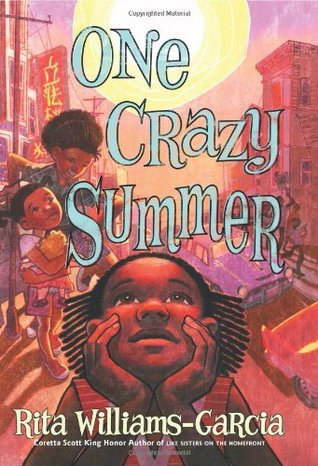 one of the group of five winners. That is, a Newbery Honor.
In 1968 at the height of the civil rights movement, three black sisters, Delphine, (eleven years old), Vonetta (nine), and Fern (seven) travel from Brooklyn to Oakland, California to visit their mother, Cecile.
Delphine only has fleeting memories of her mother who abandoned them and Papa days after Fern was born. Now Cecile, who calls herself Nzila, writes poems and prints them on a press in her kitchen. She has neither time nor warmth for her children and so sends them to the People's Center summer camp each day. The Black Panthers run the camp, feed the poor, and educate the children of poor black Oakland to what they called revolution, but we today see as "black pride."
Through Delphine's practical eyes we begin to understand a changing world where she, in charge of her sisters, does not want them to make a "grand Negro spectacle" of themselves on the airplane and where the summer camp teachers insist they are "black" when she and her sisters insists they are "colored".
Through the responsible and straight-forward Delphine, we experience the rifts that occur between "showy crowy" Vonetta, sweet baby Fern, and herself. Each character is distinct and well-developed, and we feel we know and love this family. In fact, we'll never forget them.
As the story unfolds, and as the girls develop black pride, we begin to discover, through Delphine's eyes, why their mother left them. We see the fragile connection between mother and daughters build to an honest, aching climax. We see how a political movement affects personal life in the example of one family. This is an emotionally charged and honest—oh so honest—novel. A jewel.
My second "reading" of this book was listening to the Recorded Books production of "One Crazy Summer," read by Sisi Aisha Johnson. Ms. Johnson's inflection is a perfect portrayal and support of the author's voice, giving just enough softness to Delphine's voice and Fern's gentle little girl-ness with one half ounce of sass added in. Her adult voices and men's voices are all spot on. What a fine collaboration between reader and author.
—
"One Crazy Summer" also won the Coretta Scott King Award, I'm happy to report.