Kingston's brother Khalid, an 18-year-old soccer star, inexplicably dies on the field. Twelve-year-old Kingston (King) James lives in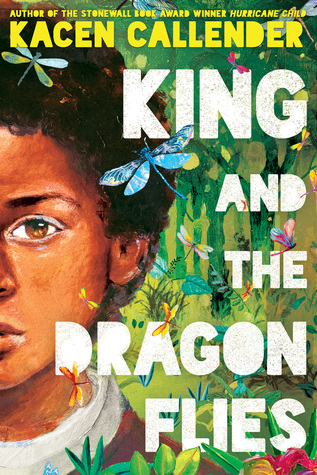 rural Louisiana and thinks Khalid has returned to this world as a dragonfly. King searches for that one dragonfly—his brother—in the bayou in Kacen Callender's "King and the Dragonflies" (Scholastic 2020), winner of the National Book Award for Young People's Literature as well as the Boston Globe-Horn Book Award for Fiction and Poetry.
Schoolmate Mikey Sanders, who is rumored to have killed a man, plants a T-shirt tied in a noose in King's locker. King is black. Mikey is white and his grandfather is known to have been a KKK member. Mikey's father is also the sheriff. But King had been good friends with Mikey's younger brother, Sandy Sanders.
Shortly before Khalid died, he'd overheard Sandy telling King that he was gay. He also heard King tell Sandy that he might be gay—he didn't know for sure. Khalid had told his little brother, King, not to hang with Sandy or people would think he was gay. Twelve-year-old King tells Sandy (also twelve) that he can't be his friend any longer. No explanation.
Khalid had also told his little brother he shouldn't help his mother with dinner. Men didn't do that. But King liked to help his mom, who comes home from work every evening so tired. But King complies with his brother's orders.
King loves his brother, misses his brother, and is carrying those confusing rules his brother made. He can't talk to his parents about it. They wouldn't understand any of it—except maybe the grief. His mother keeps a false smile on her face in hopes of cheering her family. King's father—well who knows what his father is thinking? The family is falling apart with grief for Khalid.
And then what do you do when your friend comes to school bruised? Sandy says it's nothing, but King is pretty sure his dad—the sheriff—is beating his son. And maybe it's because he's gay.
King has no one to talk to—not his brother and not Sandy. Then Sandy disappears.
The entire small town is searching for him. Everyone is scared for Sandy. The next day Sandy shows up in King's back yard tent. King agrees to keep him hidden and feed him. Their relationship reignites and the two boys tell each other their secrets. King knows of an abandoned fisherman's shack deep in the bayou close to where the dragonflies swarm. They build a paradise for themselves, in between King going to school and staying home under his parents' watchful eyes. Sandy is pretty good at fending for himself, fishing and trapping animals to eat. King subsidizes that with cereal and snacks.
King must figure out what is the right thing to do. Callender's beautiful writing perfectly conveys King's innocent mind. This is a powerful and satisfying read.
Patricia Hruby Powell is the author of the award-winning Lift As You Climb: The Story of Ella Baker, Struttin' With Some Barbecue: Lil Hardin Armstrong Becomes the First Lady of Jazz, Loving vs. Virginia, and Josephine. She teaches community classes in writing at Parkland College.